I can tell you one thing I don't like is seeing a glitch when I haven't done anything wrong. When you plug in a piece of hardware nowadays, it shouldn't glitch on you or cause you anxiety. Unfortunately as I installed my AMD Radeon video card, I was met with a confusing and baffling situation. The Windows desktop, or let's just say the entire viewable area was not expanded to the edge of the monitor. Yes, the right click on the desktop to check out the resolution appeared to be 100% correct, and was maxed out as it should be. However, the text was muddy and blurred. It wasn't right at all.
Understand that before I installed the AMD Catalyst software, the monitor was displaying just fine. For just an instant I thought the card was a dud or simply wasn't capable of high resolution. Was I using the wrong port on the back of the video card? Tried that, and no fix. I tried updating the AMD Catalyst software. Upon rebooting, still a shrunk down desktop display and not to the edges of the monitor.
I must confess I've never had this problem before when installing a video card. Perhaps it's because I've been using Nvidia? Not to take a shot at Radeon, but the fact something this simple is so frustrating, I blame them.
So I'm here to explain how to fix this issue. Don't worry, other people have tried to explain how to deal with this and those "solutions" are outdated and about as clear as mud. With updates to the AMD Catalyst Control Center, things get labeled and named differently. The online solutions that I found were not clear and I had to
The issue really seems to boil down to the fact that you are plugging into your monitor via HDMI input. Correct? In my situation, I'm using an Asus monitor which has a HDMI on one end and a DVI on the other end. In my setup, the monitor plug is HDMI and on the card, I'm using a DV plug. The point is, it seems that HDMI is confusing Mr. Radeon video card and the Catalyst software.
So here is a simple and accurate step-by-step fix.
Right click your desktop
Click on AMD Catalyst Control Center
From the menu on the left side, choose "My Digital Flat Panels"
From the sub menu, choose "Scaling Options"
Using the slider, click and hold the slider and slide it to the right side, all the way to "0%". As you slide the tab, you will see real time screen display and desktop resizing.
Enjoy
Here are the associated screenshots to help you better understand the step-by-step fix:
Part 1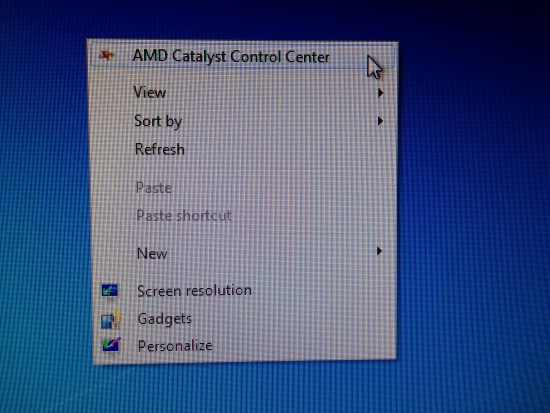 Part 2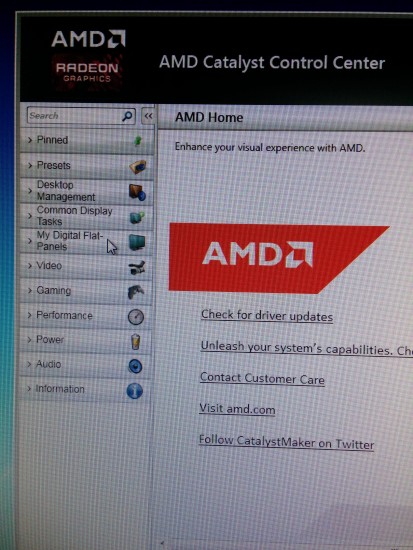 Part 3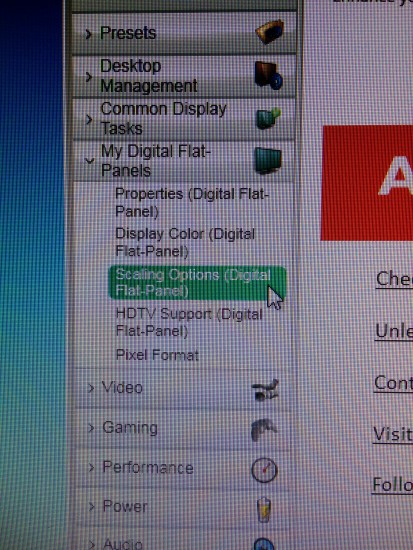 Part 4 – What you are going to see and must fix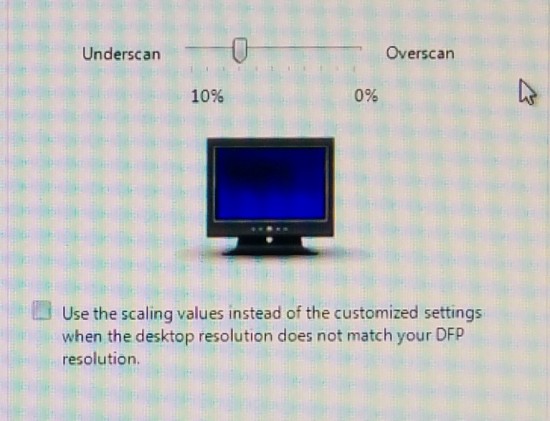 Part 5 – The correct setting to make your troubles go away