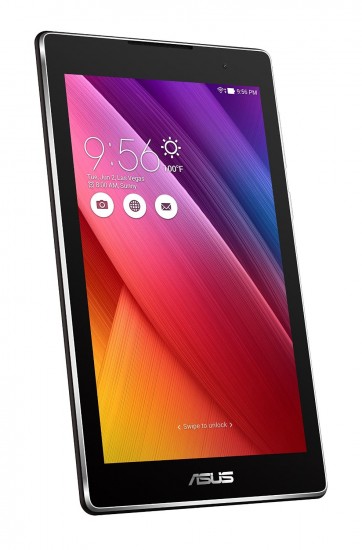 Asus has been known for some cheap products over the years. Recently we've seen them come aggressively into the Canadian market with the Zenfone 2, which is a cheap unlocked Android smartphone. Now we see that the ZenPad C 7.0 budget Android tablet is going to sell for $99 south of the border. Unfortunately in Canada, that $99 tablet is selling for $139.
It's important to realize that the ZenPad C Series is the budget series. This means a resolution of 1024 x 600 pixels and it doesn't feature the interchangeable design like the ZenPad 7.0 and ZenPad 8.0 have. However, the ZenPad C does have a microSD slot for an additional 64GB storage and a front facing speaker.
For $99 US ($139 CAD), you're getting a 16GB tablet running the latest Android Lollipop software. It has 1GB of RAM and has the Intel Atom x3-C3200 (1.2GHz) Quad Core, 64-bit processor. There are officially four colors (white, black, red, and metallic) but we don't expect all SKU's to be available in North America. Seeing white and black colors is the most likely based on previous Asus tablet releases.
So how does this ZenPad C 7.0 (Z170) stack up against the competition? Samsung Tab A and Tab 4 are quite similar, although Asus went with the lower resolution display than either of those two Samsung tablets. The Tab A 8.0 is larger and is 4:3 ratio, but it's literally double the price of the ZenPad C and it's sporting a 1024 x 768 resolution. However, price wise, Asus comes in about half the price of the Tab 4. The Amazon Kindle Fire HD 6-inch model is priced at $99, however it's not exactly an "Android" tablet in the sense of it not having access to the Google Play store. It's a modified Android OS that's specific to the Amazon ecosystem. However, price wise, it's certainly a competitor to the ZenPad C 7.0 tablet.
Can you find a cheaper Android tablet of the 7-inch variety? Probably. However, consider what you're buying and what the brand is. Asus is a brand and spec wise, are you really going to beat it? If you're looking for a non-white box cheap Android tablet, $99 is about a low as you're going to find especially with the latest hardware inside.