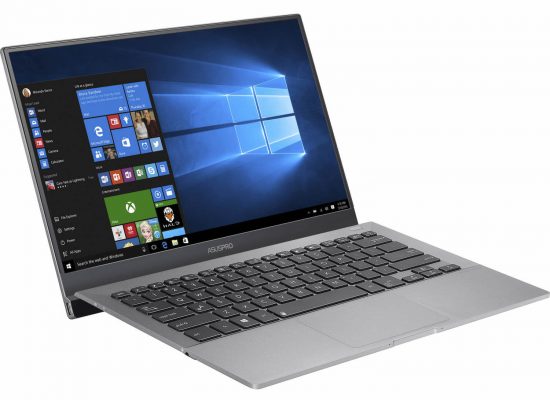 Introduction
In a world where there is great competition, comes the need for great innovation. But it's difficult in a competitive space like laptops to come up with something unique or different. Asus is a company that never shies away from a challenge especially when it comes to design and innovation. This has served them well over the years as they have a long list of achievements and products awards as a result of their seemingly fearless approach.
Asus has delivered something interesting with the ASUSPRO B9440 business laptop. They are marketing this as "the world's lightest 14-inch business notebook". It's unclear if Asus can still stake claim on this title because they mention on their website, "This is valid before June 2017". Having this bragging right, albeit with a limited time frame, is a real achievement in the laptop space.
Design features aside, Asus brings the B9440 to the market with a very competitive price point. In the US the B9440UA costs $991-$999 USD and in Canada you can find it priced at around $1299-$1349 CAD.
It's a competitive price when you consider the overall value and 512GB SSD storage included for that price. All you need to do is look at the more expensive competitors such as the Lenovo ThinkPad X1 Carbon or Dell XPS 13 which offer half the amount of storage at more expensive prices. It's difficult and not always fair to make price comparisons due to the variations in hardware but be assured that Asus comes in offering more bang for the buck.
Overview
Asus has a long history in consumer and gaming laptops but on the commercial side, they have been less prolific. Based on what we see here with the B9440, this may be an indication that Asus is getting serious about their business product offerings.
You might be wondering what makes a business laptop different than any other laptop. Let's look at the features of the B9440 which are geared towards the business users.
What puts the business into the Asus B9440?
Light Weight: Asus was able to tout this as being the lightest 14-inch business laptop in the world. This claim is valid up to June 2017 according to Asus marketing materials. Being the lightest 14-inch business laptop certainly can be appreciated during a busy travel schedule. Lighter travel generally means better travel.
Durability: The B9440 is constructed with an all-metal chassis of Magnesium alloy. Asus put this laptop through a variety of military grade MIL-STD 810G tests which offers some legitimacy to the claims of durability. In addition to durability, the keyboard also is spill resistant up to 66cc of liquid. Having a beverage while working is pretty common so spill resistance certainly provides a bit of peace of mind.
Security: The B9440 has a finger print reader for more secure access. There are also a couple optional features which includes Intel vPro support (enterprise manageability and security) thanks to the Intel Core vPro processor inside. In addition there is a Trusted Platform Module (TPM) for extra hardware security. If you aren't sure about TPM it can help enable tamper-resistant full-disk encryption (source: howtogeek.com). The technical details of vPro and TPM go beyond our review here but there are lots of excellent resources online if you want to learn more.
[download the Asus Product Datasheet PDF here]
ASUSPRO B9440 Details
Quick Specs:
Model Number: B9440UA-XS51
Intel Core i5-7200U dual-core processor @ 2.5GHz
8GB LPDDR3 RAM
512GB M.2 SSD storage
14-inch 1920 x 1080 Anti-Glare IPS Display
Integrated Intel HD Graphics 620
Backlit keyboard
802.11ac Dual-Band Wi-Fi
Bluetooth 4.1
Window 10 Cortana support
2 x Type-C USB 3.0 (USB 3.1 GEN 1)
1 x mic-in/headphone-out jack
Finger Print Reader
4 cells 48 Whrs polymer battery
Windows 10 Pro (64-Bit)
Weight: 2.31 lbs
What's In The Box: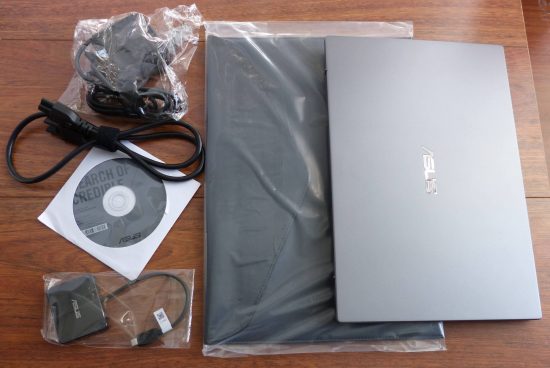 B9440 laptop
Carrying case/sleeve
Asus Type-C Mini Dock ( 1 x HDMI port, 1 x USB-C port and 1 x USB 3.0 port)
CD with drivers
Power adapter
A nice bonus is the carrying case. It's a good fitting sleeve and has a magnetic snap.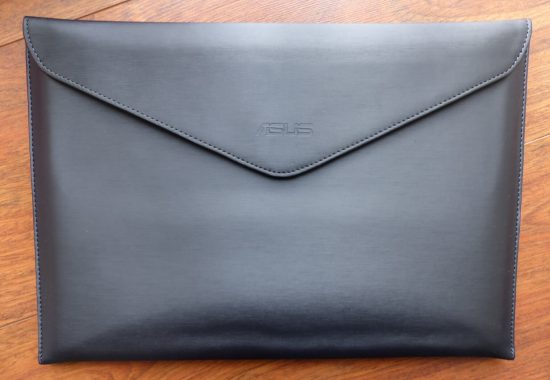 First Impressions
The Asus B9440 was shipped to my home via courier in one heckuva big box. It was noteworthy when I first picked up the box because I thought it was a tablet and not a laptop inside. The box was so darn light I was jumping to conclusions! It tricks the mind to see a big box and then pick it up only to realize it feels empty.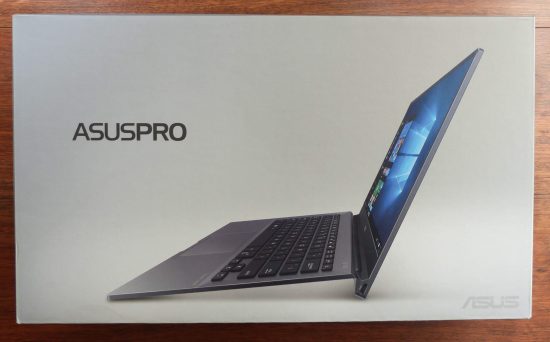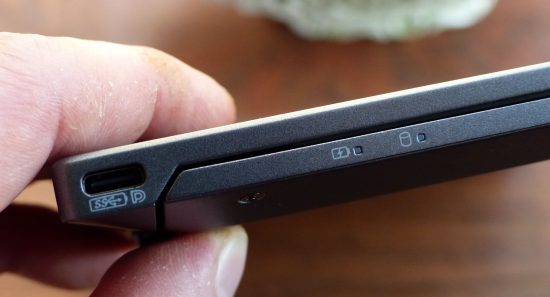 Once unpacked, I held the B9440 in my hand just to marvel at the weight of it. My initial thought was about what compromises Asus needed to make in order to get this laptop so light. How can something so light be good? Surely they must have left out some key components. Or did they? I was about to find out.
Design
The ASUSPRO B9440UA is a minimalist designed laptop that gives off a clean, business like appearance. It has more of a boxy type design, which is to say that it's different than other Asus laptops offerings such as the ZenBook series. A lot of laptops designs today are wedge like, with fat in the back and skinny in the front. The B9440 squared off design has a couple clear advantages which I will disclose next.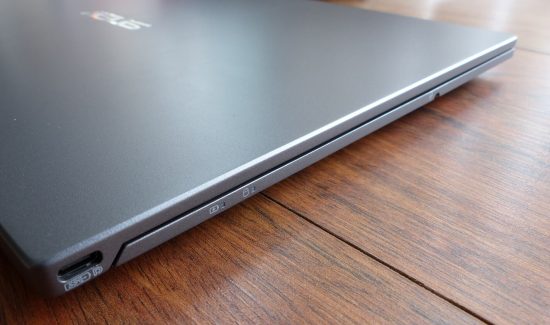 On some modern laptops, finding the "lip" to open the lid is no simple task. One handed lid opening is somewhat rare these days as well. Great news on both those fronts because the B9440 lip is easy to find and the lid can be opened with one hand. The non wedge design of the B9440 has its advantages like ease of opening.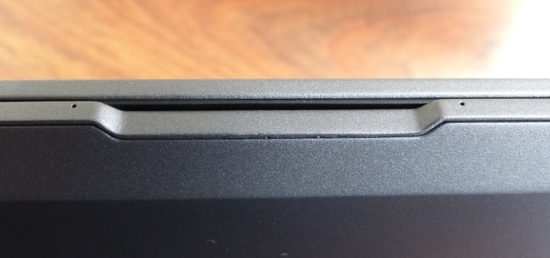 The laptop is constructed of Magnesium alloy which according to Asus means it's "harder than conventional alloy allowing the panel to take up to 20% more pressure". I would say the B9440 does not feel like it's as strong as a tank but you must take a leap of faith and believe what Asus says about the durability of the construction. Nobody really wants to test the claims, myself included. Oddly, the lid does have some spongy flex to it.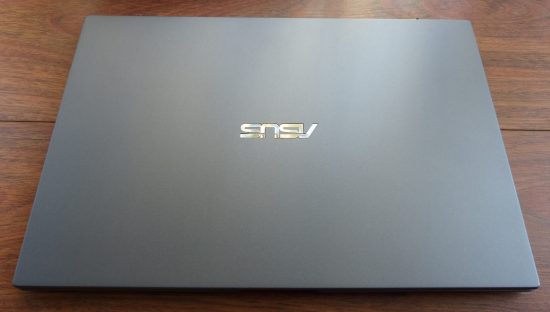 The B9440UA is described by Asus as being matte silver which in reality may appear as a grayish color. Overall the look and feel is modest but very clean looking thanks to the straight line design. It's unique looking which is a plus in a world dominated by sameness.
Keyboard
Asus has a long history with laptops and with that they have developed excellent keyboard designs. With the Asus B9440 being business orientated, the keyboard is meant for productivity and it does not disappoint in terms of spacing. There is 1.5mm key travel which is about average for laptops and it provides a good tactile feel.
See the power button located in the top right corner? Note that the "delete" key is to the left of that power button. If you are destined to hit the power button thinking it's the delete button then do yourself a favor and disable the power button in the settings. In fact it may be a good idea to disable the power button functionality to eliminate accidental presses when you're trying to use the finger print reader as well.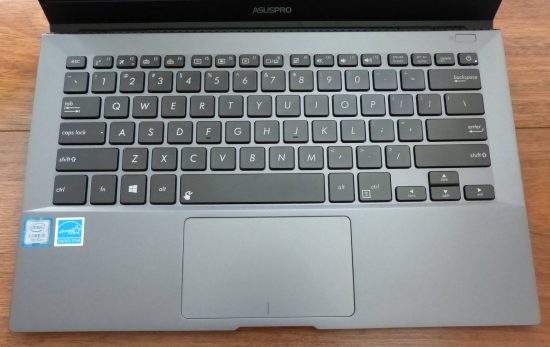 This is a full size keyboard and is spaced in such a way that it's almost strange. Aren't laptops supposed to have cramped keyboards?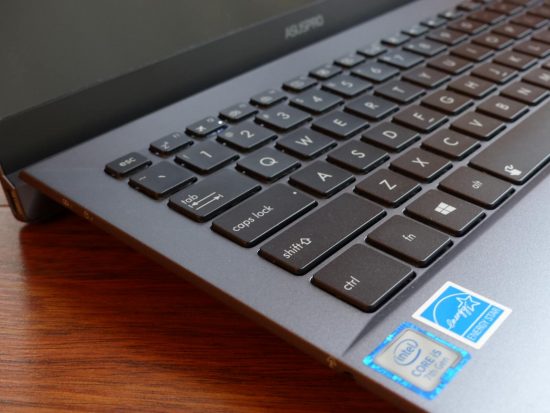 With this being a business laptop, the Asus B9440 features an illuminated bit lit keyboard with three different brightness settings. I was more than happy with the minimum brightness setting which comfortably illuminated the keys in a darkened room and was far less power hungry.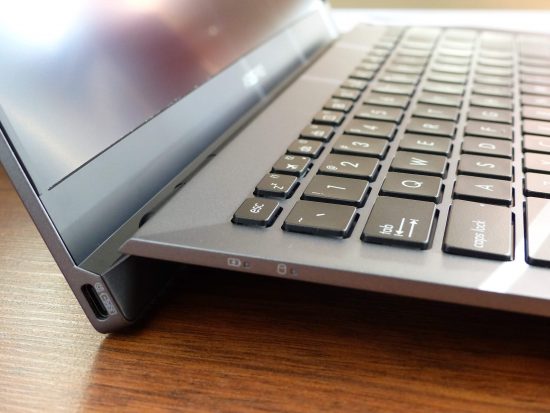 An interesting wrinkle in the design is how the keyboard elevates as you open the lid. This creates a 7-degree angle that Asus claims will "provide the most comfortable typing position". I'm not an ergonomics specialist so I can't say for certain the benefits of this.  The subject of elevated keyboard certainly seems controversial based on what I've read.
It's curious whether Asus designed the B9440 to specifically have this elevated keyboard or did it just become unavoidable. Whatever the case, I can say that the angle of the keyboard is barely noticeable. So if you are unsure of elevated vs. non-elevated then don't worry about it.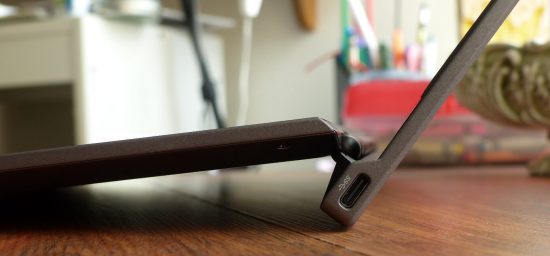 Touchpad
The Asus B9440 touchpad is not textured but instead has a silky smooth surface. The touchpad is slightly sunken which creates a easy-to-feel lip around the boundary, making it easy to know where the edges are without having to look down. It's large enough to get the job done and I found myself whipping through various tasks with ease. The left and mouse buttons do exist in the lower extremities of the touchpad, but they are not separate buttons. Instead Asus employed a vertical marking on the touchpad to help with button orientation. The times when I opted to use the click buttons, the response was just about perfect in terms of firmness and the click sound was relatively quiet.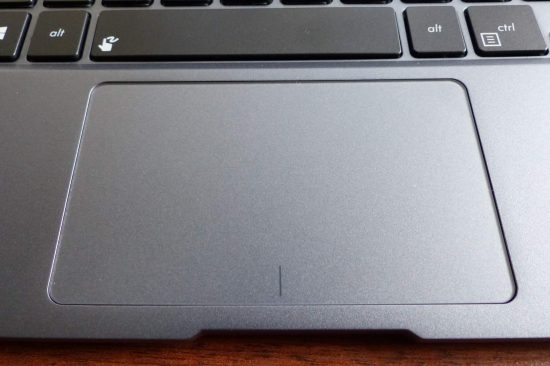 Asus includes their touchpad software "Asus Smart Gesture" which gives you a few different options with two, three and four finger gestures. It's rather fantastic how much touchpad technology and gestures have advanced over the years. If you get this laptop, definitely familiarize yourself with all that you can do with the touchpad and Windows 10.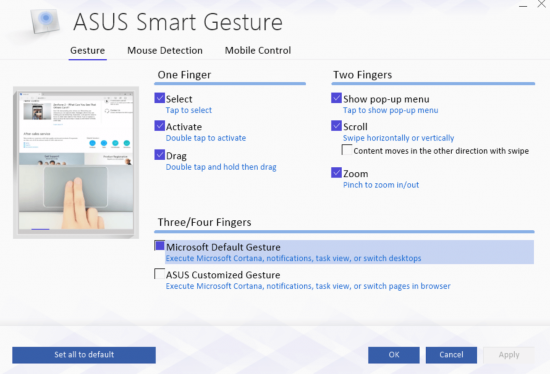 Ports
If you read other reviews of the B9440 there is no shortage of criticism about what this laptops lacks rather than what it provides. Specifically, I'm referring to the lack of ports and lack of webcam. This laptop has two USB-C ports and a headphone/mic jack. That's it. It's also worth noting that one of the two USB-C ports on the B9440 is required for charging.
At first blush this may seem absurd, but it's worth nothing that other laptop designs are opting for a similar port structure. Asus is not along in the implementation of USB-C ports which rely on dongles to add more connectivity.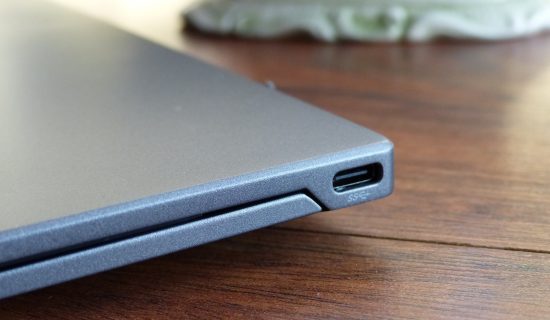 In the box Asus does include their Type-C USB mini dock dongle which provides a HDMI port, a USB-C port and a standard USB 3.0 port. If that's not enough, you can get various USB-C adapters for under $10 from pretty much any retailer these days. A USB-C male to USB female dongle for example, is commonplace and cheap to buy.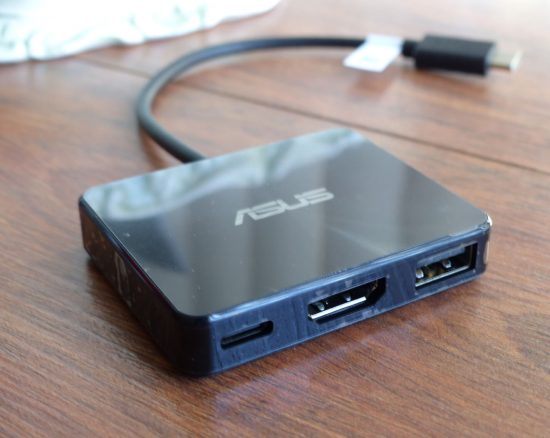 If you are truly concerned about ports and connectivity, Asus sells their almighty workstation SIMPRO Dock. This thing is far from portable but it does come with a plethora of ports which are too numerous to list here. The SIMPRO Dock is $175 CAD and is not exactly mobile friendly so it's likely going to sit on your office desk.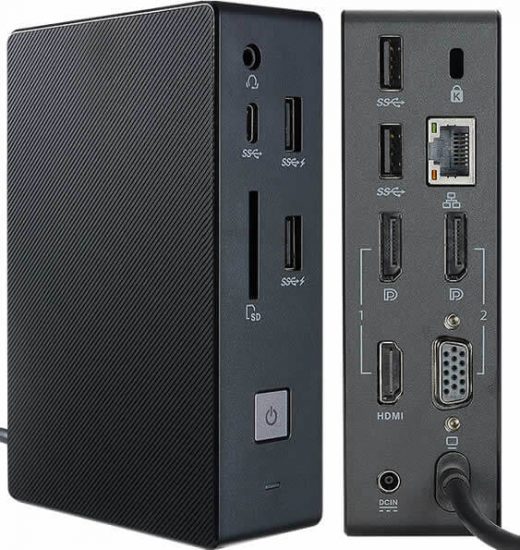 Clearly these types of connectivity solutions are unconventional at least in the traditional sense. The B9440 brings a unique design to the table and with that comes compromise like having only two USB-C ports. Consumers these days want the thinnest and lightest devices and this ultimately creates design challenges that require unique solutions. But given the versatility of USB-C and dongles, I don't see any real issues on the Asus B9440 with the two ports.
Webcam-less
When you get narrow bezels like the B9440 it makes built-in webcams nearly impossible. Other competing laptops with narrow bezels have the webcam on the bottom of the display. This placement provides a less than ideal "up the nose" perspective during video conferencing. Rather than putting a webcam in an awkward position, Asus removed it entirely.
If a lack of webcam may be a deal breaker, consider a couple options. Use your smartphone or use a webcam. Neither is an ideal solution but either will work.
I have a webcam which I use for my desktop computer which I tested out with the B9440. You can see that it's adjustable enough so that overhang is not an issue. Having a multi-angle adjustable webcam is a key because of the extremely narrow bezels on this laptop.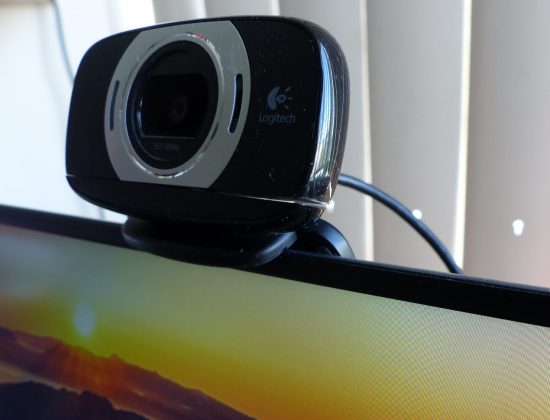 There is one benefit to using an external webcam which is not often mentioned. Consider the quality of an external webcam that can provide a 1080p resolution as opposed to the lesser quality and resolution of a built-in webcam. A better quality image during video conferencing is something that will be appreciated by others.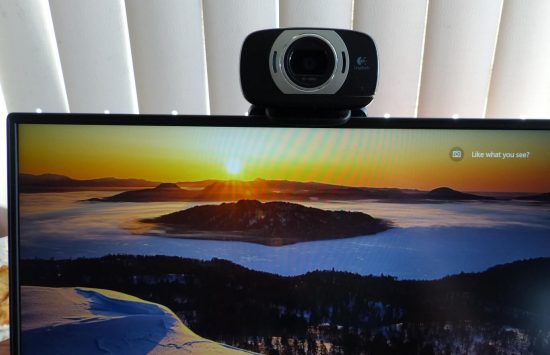 My final point is that most webcams are not cumbersome to travel with. If you're traveling there are going to be accessories coming with the B9440 whether it is the power adapter, dongles and or a mouse. Adding a small webcam to your bag should not be of concern.
The design Asus employed to get a 14-inch display in a 13-inch chassis means some compromise. So to me, the webcam issue has been blown out of proportion by comments I've read online. If a new webcam purchase is required then add on $50 to $70 to the price of owning and using the B9440. The 1080p capable Logitech C615 which I showed here is around $70 CAD sale priced. Having to spend extra money is not ideal, but looking at the pros and cons I feel this webcam situation should not be a deal breaker.
Hinge Design
With the surge in 360 design laptops that can double as tablets, the B9440 is a bit of a rebel in this regard. The display does not fold all the way back to create a tablet but the B9440 hinge allows the display does go all the way back to a "flat" 180-degree position. I found this 180-degree capable hinge design is very handy in a couple ways.

First off, there are times when you are at a desktop computer and need a second screen. The Asus B9440 offered an interesting option thanks to the flexible display hinge. Rather than having the laptop off to the side, the hinge allowed me to lower the display to the point where I could put the laptop directly in front of my 24-inch desktop monitor. Your mileage may vary of course depending on your desk space but this was definitely workable for me. The angle was perfect to view articles, videos and other content yet it didn't get in the way of my main desktop monitor. It's simply more efficient to reference a second display with a quick glance down rather than having to turn your head off to the side.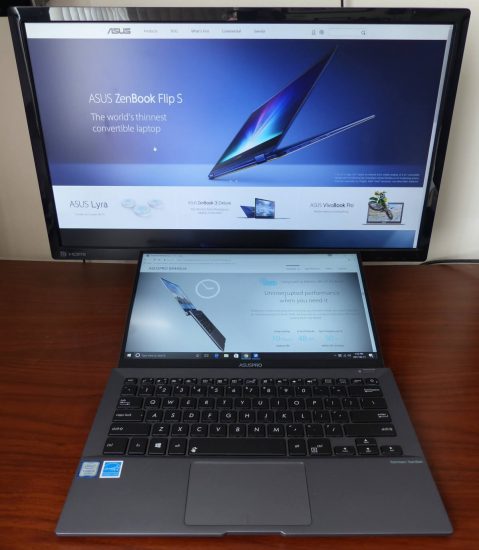 Secondly, the hinge design makes the B9440 handy if you're kicking back in bed on a sofa. Obviously a tablet is a more ideal bed companion but with business travel it's entirely possible your laptop is all you have. A few things work in favor of the B9440, namely the flexible hinge design, the backlit keyboard and light weight. It's the flexible hinge that allow you to find a comfortable position regardless if you are lying down or partially sitting up.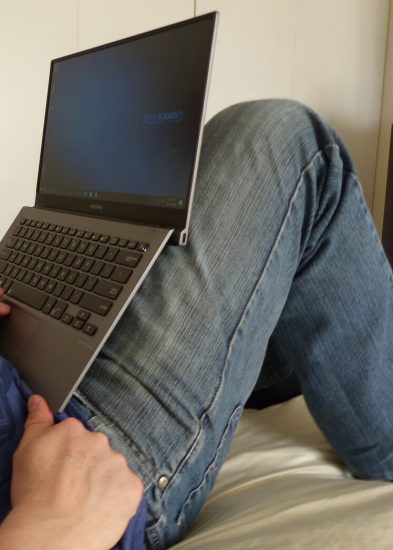 Lastly, the flexible display hinge allows for a more comfortable experience when using the B9440 on your lap. Legs up, legs down, legs crossed. It doesn't really matter. You can find the sweet spot for the viewing angle. During business travel this flexibility will come in handy while sitting waiting for your various forms of transportation.
Finger Print Sensor
In theory having a finger print sensor login is quick and convenient. Perhaps I'm spoiled by smartphones but the the size and positioning of the Asus B9440 finger print sensor is not exactly ideal.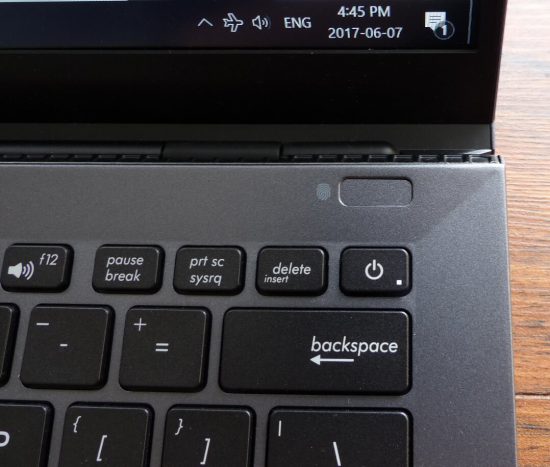 The main confusion when setting up the finger print sensor was how to orientate my finger. I opted for coming in from the right side rather than from straight on. As you can see in the photo above, the power button is right in line with the finger print sensor so coming in from the side avoids the potential accidental power button presses. Once I got the hang of the proper finger placement, I had good success with the finger print login in spite of the size and placement of it. I highly recommend disabling the power button functionality is the system settings to avoid accidental button presses.
Display
The Asus B9440 provides a non touch, 14-inch FHD (1920 x 1080 resolution) anti-glare display. The design feat here was that Asus minimized the bezel to the point they could squeeze this size display into a chassis that's the size of your typical 13-inch laptop. Impressive as that is, to me the real story here is that the display is matte rather than glossy. Although prettier, glossy displays are reflective and lead more to frustration than to productivity. Other displays may be more accurate but the Asus B9440 is about work first and play second.
When it comes to clarity and usability in any environment, the B9440 display was excellent. Asus touts this as "anti-glare" I can verify that claim. I tested this display against various lighting environments and there were no reflection issues. Regardless of shadows, sunlight, or bright indoor lighting the Asus B9440 passed with flying colors. Since business usually requires travel, you will appreciate this display as you are trying to get work done in a variety of environments.
You will likely read other reviews that break down every pixel and detail of this display in a highly technical analysis. With respect to those types of reviews, color accuracy and benchmark results are out of a computer lab and not based on real life environments. From a practical perspective, if you can't see a display clearly because of reflections then does it really matter about the minutia of color accuracy? When your laptop screen is dealing with less than ideal lighting and reflections then the so-called better or more accurate laptop displays lose their advantages. The versatility of the B9440 anti-glare matte screen is a real bonus and should not be understated.
Audio
The Asus B9440 is certified by harman/kardon which means the audio meets a certain quality standard. Do not dismiss this certification as a clever marketing ploy because the proof is in the pudding. The audio on this laptop is simply fantastic!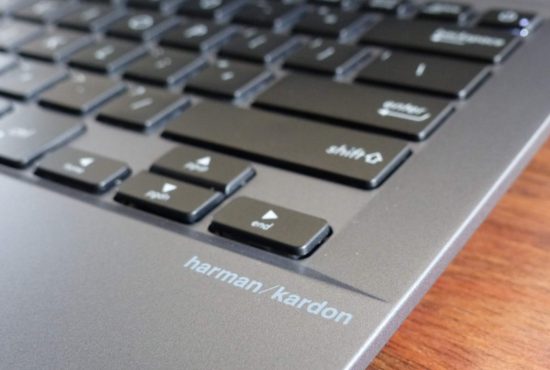 Explaining audio quality with words is a bit challenging. What I can say is that going to "10" didn't result in broken up or crackling audio. The speakers held together rather nicely. The sound emitting from the B9440 is punchy, rich and full.
With a light laptop I wasn't expecting copious amounts of bass and nor should anyone else. This is a tradeoff because if you have a heavier device you can rightfully expect more bass. In this case, you can't.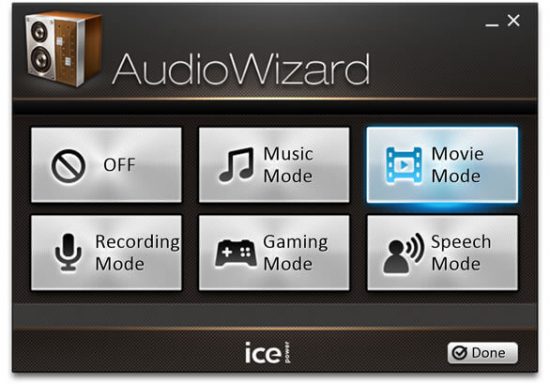 The AudioWizard app has a few presets that do increase the bass from what you get out of the box. This app is a bit buried, but search for it and use it right out of the box for best results.
Battery
Asus marketing materials suggest that the B9440 can get more than 10 hours use on a full charge. I put the laptop through a variety of tests in an effort to validate or dispel those claims. What I can say is that there was a wide range of results but if you really want that 10 hours then you better dim the brightness.
Under a typical work scenario with browsing the web, working on documents, etc, I found that using 100% full brightness would drain the battery up to 20% in one hour. So if you dial back the brightness to 50%, you can get closer to that promised 10% battery drain per hour. It's worth noting that the display is very usable at 50% so you could drop down to 30% brightness and still have a very workable display without having to strain your eyes.
The backlit keyboard and the three brightness settings can provide serious battery drain if you're not careful. When I used the back lit keyboard at its lowest setting and cranked the screen brightness up to 100%, the battery drained 25-30% in an hour. I didn't test battery drain with the backlit brightness set to full but it's quite obvious the results. More than that, there is no need to have the back light set to full brightness because the lowest setting is sufficient.
In video playback tests, I used full 100% brightness and 50% brightness. Volume was set to 50% and I used both local storage video playback and online streaming video playback.
I watched a 2 hour 1080p movie (MKV format) off local storage using VLC media player. With 100% brightness the battery drained by 42%. When running the same test at 50% brightness the battery drained by 34%. As I've already mentioned, on this laptop you can go much lower than 50% and still have a decent viewing experience.
Playing a 1080p video from local storage is quite a contrast to streaming video online. Using an online streaming service, a 2 hour movie at 720p resolution with 100% brightness drained the battery by 26-28% and at 50% brightness the battery drained by 20-22%.
What settings you decide on for video watching really depends on your predicament regarding battery level and when you can get your next charge in. Obviously the most pleasurable viewing experience for a movie is while at 100% full brightness so hopefully my results here will give you some realistic expectations from the B9440. Avoiding 1080p video will certainly extend your battery life by a good amount based on my testing.
Let's talk about standby. I put the Asus B9440 in airplane mode without using sleep mode or battery saving mode and closed the lid for days. What I can tell you is that the battery level dropped by 1 or 2% over a four to five day period. I'm not advising anyone to leave a laptop on  when not in use, but if your usage means long stretches of standby, be assured the B9440 battery will remain just about where you left it.
The speed in which the Asus B9440 can recharge is simply remarkable and is a gift that keeps on giving. If you've drained the battery you can get up to 50% charge in just over 30 minutes and 99% full charge in just over one hour. I mention 99% because it tends to hang for quite some time on 99% before showing 100% full charge. In business terms, if you have a hectic schedule, a 30 minute charge can provide you enough battery for your next meeting and beyond.
A minor quibble with battery charging is with the estimated time for a full charge notification. Time for full charge is simply not accurate enough for my liking and is not trustworthy.
Benchmarks
Performance wise, the Asus B9440 performed as expected. A Kaby Lake Intel Core i5 is a capable processor, the 8GB or RAM provides enough multitasking performance and the integrated Intel HD Graphics 620 GPU is adequate for light gaming. This laptop is designed for business and price affordability so expecting benchmark topping results is not a realistic expectation.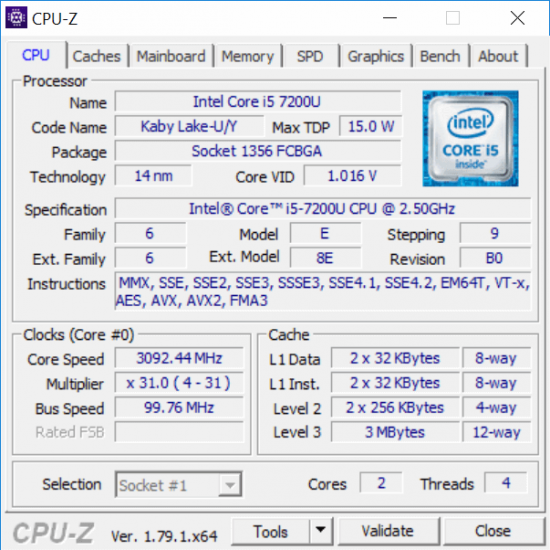 Geekbench 3 / Geekbench 4 Comparisons Chart:
You can see in the chart below that the Asus B9440 is in good company based on the Geekbench test results.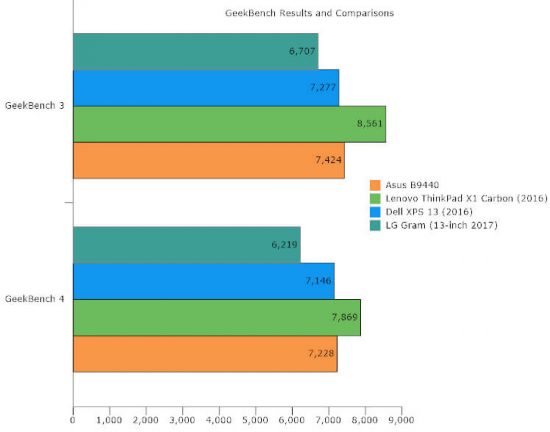 3DMark Cloud Gate Results and Comparisons:
There isn't a lot to analyze here considering the Asus B9440 makes use of the Intel HD 620 integrated graphics. Modest performance is what you can expect and the benchmark comparisons tell us as much.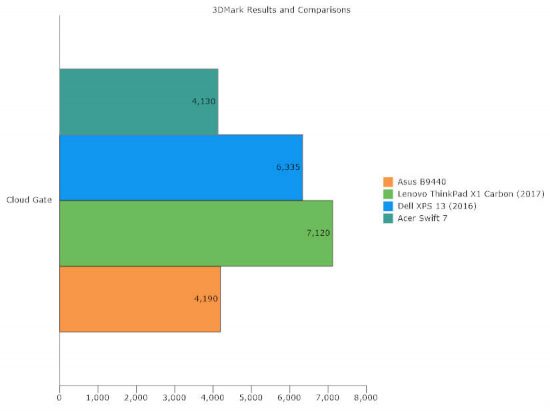 PCMark 8 Work Benchmark:
This benchmark test is more appropriate for a business focused laptop like the B9440. The PCMark 8 Work tests look at a variety of office work tasks that you will most likely be utilizing on this laptop.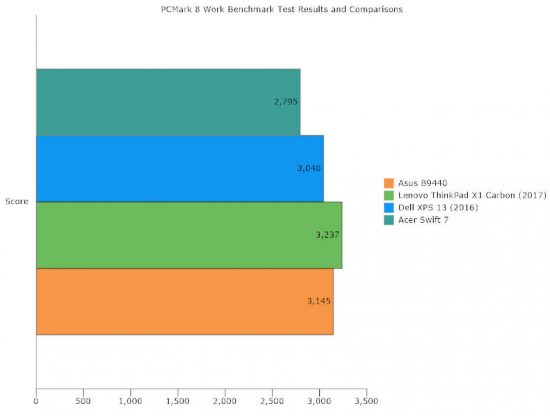 It's worth noting that the Asus B9440 runs very quiet and runs cool in most every situation. It's virtually impossible to hear the fans running in most instances. In an office environment, a quiet laptop has its benefits.
Conclusion
The Asus B9440 has numerous selling points and only a few drawbacks. This laptop deserves strong consideration because it's offering a lot of value for the price. If you're going to look at similar laptops that appeal to a business user, the Asus B9440 comes in at a much cheaper price and in most cases it offers double the storage.
The two main causes for concern are with the two ports and lack of webcam. However, I don't see the ports as being an issue at all considering a dongle comes in the box. The webcam situation may require an additional purchase of $50 to $70 which makes this laptop less of a bargain. As I've already mentioned, there is a side benefit with an external webcam because you are able to get 1080p resolution as opposed to a lesser resolution built-in camera.
What's most impressive to me about the B9440 is the fantastically light design, the 14-inch display in a smaller 13-inch laptop chassis, along with the ability to boost the battery in a very short period of time. Other notable features of the Asus B9440 include the anti-reflective display, full sounding audio, good battery life and included accessories.
An issue which is exclusive to Canadians and isn't a knock on the laptop itself, is the limited availability in stores. Best Buy Canada for example doesn't sell this laptop currently. A business orientated retailer like Staples Canada doesn't sell this laptop. Obviously the more retailers selling a product, the better your chance for some price matching and discounts. We will update as more shopping options become available. You can get the Asus B9440 from NCIX currently. They have it in-stock with a price of $1,299 CAD.
Score: 4.5 / 5