Given the capabilities of the modern day smartphone, the need for a gaming specific mobile phone might be deemed unnecessary by some. ASUS is a brand that is going hard into the world of gaming and their latest ROG Phone 2 clearly draws a line in the sand. If there is a bigger powerhouse on the market, show yourself. The ROG Phone 2 is simply majestic in terms of what it offers and you can pre-order it now for $899 USD.
Model: ZS660KL-S855P-12G512G-BK
Canadian retailers are still waiting for inventory, but we do have an option that is quite possibly cheaper than what you will pay in Canada. Free shipping out of the US and many people have found the price with conversion and duties to be cheaper on the ZenFone 6 than what the Canadian price for the ZenFone 6 will be. Two different ASUS support staff have told us that the warranty would be valid in Canada, but two B&H staff have said the warranty is not valid in Canada. Who can you trust? We are making every effort to find out where B&H is getting their information because it's contrary to what ASUS is telling us. We say go for it because you can canel your pre-order or send the phone back to B&H if it turns out that ASUS is providing incorrect information about warranty coverage in Canada with their US bought ROG Phone 2.
As for what the ROG Phone 2 will cost in Canada? Likely $1,099 CAD to $1,199 CAD if you look at the ZenFone 6 US to Canada pricing that ASUS is employing. If you want this, buy from the US because it's not imminent for a Canada release and we track multiple sources. Maybe Amazon.ca at some point makes units available, but outside of that, the Canada ROG Phone 2 release is a while out.
Shopping Link: $899 USD – In Stock Now – ROG Phone 2 from B&H with free shipping to Canada
In some ways it's almost more appropriate to talk about what the ROG Phone 2 doesn't have rather than what it has. It really does have an embarrassment of riches when it comes to hardware!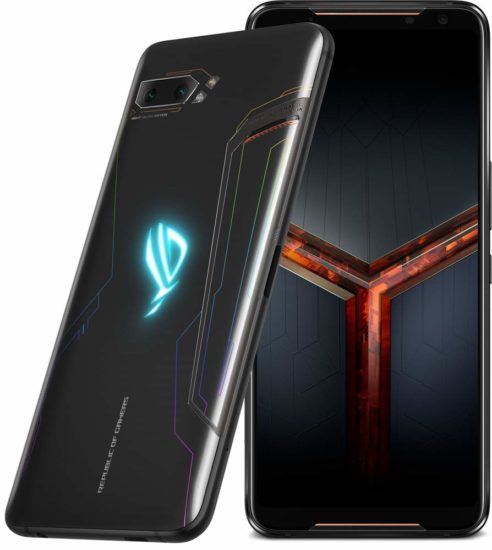 Storage is 512GB with 12GB of RAM for starters. It does not have a microSD slot for storage expansion but 512GB seems pretty safe and quite honestly microSD cards are not exactly fail proof. The processor is a Qualcomm Snapdragon 855 Plus (2.96GHz) along with a 700MHz Adreno 640 Adreno GPU. It ships with Android 9.0 and ASUS is very much committed to future Android updates. The display features a 2340×1080 AMOLED notchless panel coming in at 6.6-inches. A big deal is that the display can run at higher refresh rates of your choosing (60Hz/90Hz/120Hz) which is something people rave about. And perhaps the star of the show is the 6,000mAh battery which does one better than the 5,000mAh battery of the ZenFone 6 that people were quite frankly gushing over. Oh, it's worth noting that yes, the ROG Phone 2 features a headphone jack. Speaking of audio, the ROG Phone 2 features 2 front facing stereo speakers that by all accounts, pack a punch.
The ROG Phone 2 is unlocked and features a dual-sim card slot. The phone has the following network bands:
GSM 2G

GSM, GPRS, EDGE: 850, 900, 1800, 1900 MHz

GSM 3G/3.5G

UMTS, HSPA+: 850, 900, 1700, 1900, 2100 MHz

4G LTE

LTE: 1, 2, 3, 4, 5, 7, 8, 12, 13, 17, 18, 19, 20, 26, 28, 29, 32, 34, 38, 39, 40, 41, 46, 66 Bands
It's nice to see Band 66 and it's the first ASUS mobile phone to feature that band. Needless to say, the ROG Phone 2 is unlocked and will work on any Canadian mobile network.
The ROG aesthetics of the ROG Phone 2 are quite pronounced, however the theme on the phone can be made more like default Android and a case can ultimately tone down (cover up) the ROG designed rear of the phone.
If you just put aside the gaming aspect of the ROG Phone 2, it's quite an incredible device. It has enhanced cooling so if you're watching videos you should expect excellent battery life. Imagine not gaming but getting to enjoy an unheard of 6,000mAh battery!
The ROG Phone 2 does come with the Aero Case which means not added expense to ensure it runs cooler during extended gaming sessions. The issue of course with mobile processors is heat and throttling but ASUS has gone the extra mile to ensure lower temperatures in order to keep peak performance while gaming. This is a big difference as to why the ROG Phone 2 is simply a better option than perhaps equally capable flashship mobile phones that can play similar games. Those flagship phones are not suited to keeping temperatures down while heavy gaming and the performance will suffer as a result.
If you really want to splurge, just wait until you get a look at the ROG Phone 2 accessories. If you have a lot of spare cash you could have a lot of fun with this! We will provide some more details and pricing on the various ROG Phone 2 accessories in the near future.
So is the ROG Phone 2 something you might consider?