Drones started out as a neat toy, but they quickly turned into a serious safety concern for governments all over the planet. It seems that in the field of deliveries, drones are taking huge strides. A lot of big names like Amazon have been investing big money in creating a viable drone delivery system. But is this really a viable delivery option? Yes it is! A historic drone delivery flight took place in the late summer that successfully delivered medications from Duncan to Salt Spring Island—a distance of 6km—in 11 minutes time.
In August, London Drugs , Canada Post and InDro Robotics launched a test flight where a drone was used to deliver an EpiPen and Narcan spray to Salt Spring Island. This was no ordinary test because it was classified as BVLOS, which stands for "beyond visual line-of-sight" and was the first ever to deliver pharmaceuticals. Transport Canada was also involved and is using the data and information from this test delivery to help develop rules and regulations for future BVLOS drone flights.
For these types of drone flights, many safety protocols are in place. The drone was obviously equipped with a camera, has the ability to hear sounds and also sends out alerts to nearby pilots to make those other crafts aware of its presence in the area. The flight was being monitored obviously to ensure a safe flight and delivery. What made this delivery test unique was that it traveled over water.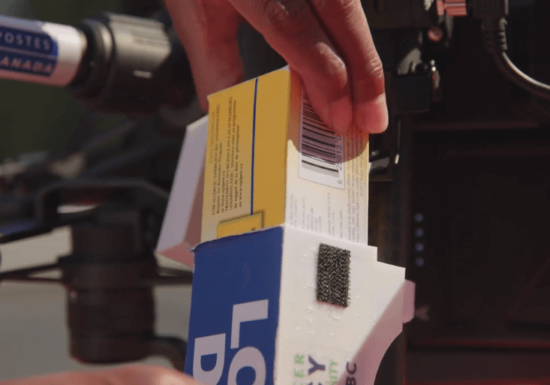 The flight itself, from Duncan to Salt Spring Island is approximately six kilometers away and it took only 11 minutes to reach its destination. It traveled 75 metres above the ground/sea at a speed of around 50-60 km/h. The drop zones on Salt Spring Island used a round landing pad marked with an "H" in the center. The drone used in this delivery is capable of a 5.5kg load, but larger sized drones are capable of carrying up to 20kg.
Clearly the use of drones goes beyond recreation. These types of stories and trials need to happen more frequently because the more data that Transport Canada can access, the more confident they will be in creating a set of rules and laws surrounding drone use. Given the success of this trial drone delivery, those involved with the flight suggest that they could make this a true delivery service within a year. Nice to be optimistic, but beyond visual line-of-sight drone flights is going to require a lot of data before Transport Canada allows these types of flights on a more mainstream basis. Regulation takes time especially when it's so new and such a potential safety risk.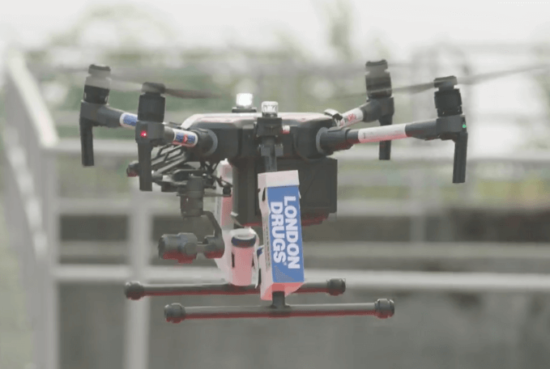 It's also very easy to see why this technology is a real game changer. Remote areas can get access to life saving medicine and locations where helicopters cannot access, a drone delivery could save lives. There is obviously a lot more cachet in talking about saving a life versus delivering a new toy to a customer. The retails aspect of drone delivery will be nice, but the life saving and more meaningful uses for drones is going to expedite the regulation to get these delivery drones in the air quicker. Of course Amazon wants drone delivery yesterday and would be pleading for regulators to hurry up, but if the medical and rescue benefits can be pushed, regulators are more inclined to prioritize the technology.
If you want to watch the video of this historic drone delivery, check it out here.
[source: London Drugs]