Update July 8, 2020: We stand by our logic in suggesting the leaks below are indeed the ZenFone 7. We prefer to report news or leaks that have some evidence, but in this breaking development, we will break our own rule.
A report out of TNNToday.com suggests that there are two variants, a ZenFone 7 and ZenFone 7 Pro.
Our analysis? ASUS has been steadfast on having one model per year, and that's it. One thing has changed though and that's called success. The ZenFone 6 was a smashing success and perhaps that gives way to a "pro" model this year. We could feasibly see the ZenFone 7 with LCD display technology and the ZenFone 7 Pro with AMOLED display technology. Nothing beats AMOLED for sheer eye candy so we're hoping this turns out to be true. The LCD in the ZenFone 6 turned away some sales so ASUS should address that this year if they want to build on their success last year.
The next part of this report is that the ZenFone 7 models will make use of the flip-style camera mechanism, albeit with more lenses this time around. How can this be? We spent a good time below writing about why ASUS opted not to use a flip-style camera for the ZenFone 7 and the leaked images backed up that belief.
One puzzling and perhaps telling aspect of the ZenFone 7 story is the sheer lack of information. We need to look at the abundance of ROG Phone 3 information out there and the sheer lack of ZenFone 7 leakage. Could it be that ASUS wants to spring a big surprise on the tech world again? We're hoping so. If ASUS managed to put a flip camera with more lenses on the ZenFone 7 we will not only be applauding, we will also be plopping down money to get in on the first wave of pre-orders.
Our Original Thoughts as of May 25, 2020:
The ZenFone 6 with its flip style camera and notchless design was game changing. It was also clearly a pain for ASUS to manufacture which was evidenced by a slow rollout and failure to meet demand. It does seem that ASUS is ditching the flip camera and sticking to the trends which is sad for us who expected more from the innovative ASUS.
We are going to connect dots here and tell you why the ZenFone 7 has already been leaked. Many have dismissed the previous leaks but we are certain that what has been shown, is in fact reality.
We have followed ASUS product launches closely for many years. Of all the launches, the ZenFone 7 has been eerily quiet. Blame covid-19, I suppose. Certainly not having the CES show in Taipei, Taiwan is a void for ASUS because that has always been their biggest unveil event. We are literally days away from when ASUS typically shows up their greatest new products which means there should already be leaks galore, which there are not.
So let's look at the ZenFone 7. To confirm that these leaks are authentic, we need only look at past official ASUS product photos. There is a certain style and layout that is undeniable. Sure, Photoshop can also do wonders so you can't look at just one photo and say that's proof enough. In this case, there are two unrelated photos that are proof positive.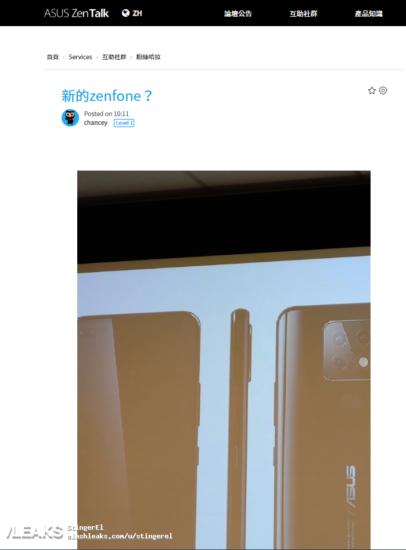 The first is what appears to be a slide from an ASUS internal presentation. There appears to be the common camera housing on the back, awfully similar to a fruit brand's product. But if you look very closely on the left, you can see a double punch-out or double hole punch. See what we're saying about flip camera module no more?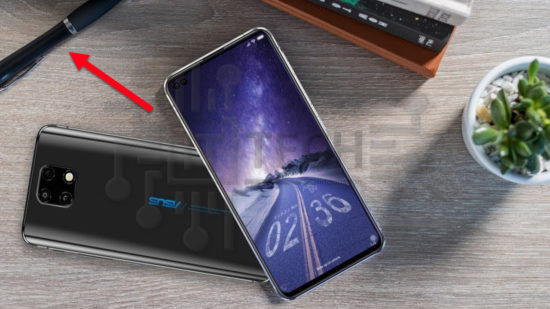 The second image is what ASUS has done in the past. It's similar and if you look, you can spot a pen that is exactly the same in the ZenFone 6 image. The layout and style of the image is very similar so for us, this confirms authenticity. Sure, one could argue that the ZenFone 7 image was modified or Photoshopped into the image, but that's a stretch when you consider the first photo from what appears to be an ASUS internal meeting.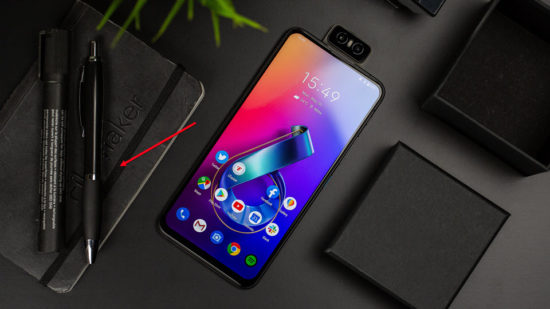 On their own, neither of these leaks prove anything. However, the two of them together confirm that it is the ZenFone 7.
You might find rumors about two different ZenFone 7 models. However, ASUS has been on record as saying one model only, per year. The company was close to abandoning their entire mobile phone pursuit so do not expect multiple models unless there was a serious change of strategy at the top of the company. We expect one model of ZenFone 7 and the ROG Phone 3 and that's it.
Given the accolades ASUS received for the ZenFone 6, there will certainly be a lot of disappointment in the ZenFone 7. A double hole punch-out in the front of the ZenFone 7 makes it no different than the competition. And if the ASUS phone looks like every other phone on the market, we don't see how they can continue momentum.
If anything, ASUS will learn that innovation is what matters to people and the ZenFone 6 should have proved to them the direction to go in. Either cost or technical limitations meant they couldn't bring a flip module to the ZenFone 7 which is disappointing.
So if you were hoping for a ZenFone 7 with a flip camera, you have options. If the ZenFone 6 inventory holds, you might see some price drops. However, an abundance of stock is unlikely especially when we see B&H in the US showing "discontinued" in their ZenFone 6 product listings. Odd considering we have availability in Canada.
Our advice is wait for the next sale and get a ZenFone 6 while you can. It's a solid purchase even as of today and ultra-critical Reddit users give the device super high marks after owning and using theirs for months.
[source: Slashleaks]