With the unveiling event on July 22, news about ROG Phone 3 in Canada should be coming very soon.
Most affordable option? The ROG Phone 3 STRIX Edition. It has less RAM (8GB) , less storage (256GB) and also comes with the standard Snapdragon 865 and not the "Plus" version. If you make those sacrifices, you can get into this gaming phone for quite a bit less money.
The North American SKUs should be made available soon, so please check back with us.
Here is what we are expecting in terms of configurations. Most likely only two of these variants will be available in Canada and the US.
ZS661KS-S865-8G250G-BK
ZS661KS-S865P-12G512G-BK
ZS661KS-S865P-16G512G-BK
—– many be also listed as:
ZS661KS-S865S-12G512G-BK
ZS661KS-S865S-16G512G-BK
Are you looking for a new mobile phone that can double as a portable gaming rig? The ROG Phone 3 might be for you.
The ROG Phone series is an ASUS solution for the gamers out there who want more than just a smartphone. The ROG Phone 3 (ZS661KS) is not just an option for gaming, but the massive 6,000mAh battery provides epic battery life for everyday phone usage as well.
Here is the first real look at the ROG Phone 3: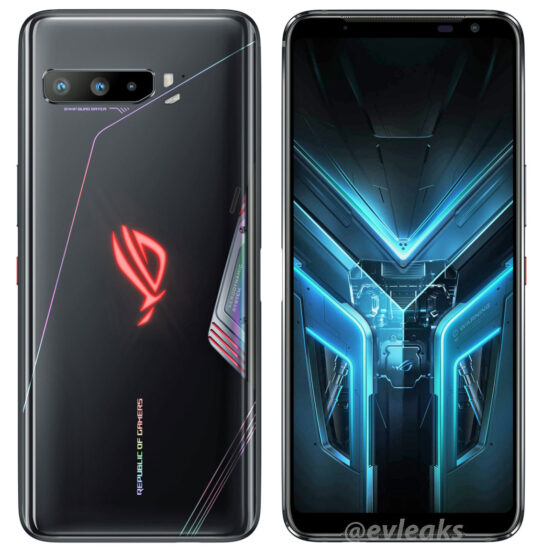 We are in the process of updating, but we wanted to get the first look renders up first! The official launch of the ROG Phone 3 is July 22, 2020 but the opportunity for pre-orders will likely be down the road a bit.
Specs (unofficial)
Snapdragon 865+
6.59-inch FHD+ display (AMOLED)
120Hz or 144Hz refresh rate
16GB RAM
512BG Storage
6,000mAh battery
30W charging
5G support
64MP Triple-Camera
Headphone Jack
It's realistic to expect pre-orders to begin at some point in early August, most likely starting in the US, Europe and parts of Asia. The ROG Phone 3 is going to spare no expense when it comes to specs, so expect to pay a premium. Frankly speaking, it's hard to find any phone with a massive 6,000mAh battery and if you consume lots of content like videos, this may be a good option. Think of this as being more than just a gaming phone. There are a bevy of accessories that make the ROG Phone series a full-on desktop computer that you can hook up to a television among other things. Canadian retailers will most likely include:
BestBuy.ca
Amazon.ca
Canada Computers
Staples Canada