First, we have a Canada specific post for the Zenfone 3 with all the details including release date, price, pre order, and network compatibility. You can see the detailed post here.
The hero of the Asus Computex 2016 show is certainly the new Zenfone 3 line-up. We will be listing in full detail the models, release dates, prices, specs and other information in just a few hours from now. Asus will also release some high resolution Zenfone 3 images which we will have here for your viewing pleasure.
What we expect:
Asus has been on record saying there would be three models. Priced from lowest to highest, they said the Zenfone 3 Max, then Zenfone 3, then Zenfone 3 Deluxe. Asus has kept these models under wraps really well actually considering Computex 2016 is pretty much here and now.
Zenfone 3 Max

ZC520TL, ZC500KL, ZC600KL, ZC551KL
entry level
possible sizes include 5-inch, 5.2-inch, 5.5-inch and 6-inch
5000mAh battery
finger print sensor
8MP front and 13MP rear cameras
laser auto focus and optical image stabilization
dual speakers

Zenfone 3

ZE552KL, ZE520KL
sizes include 5.5-inch and 5.2-inch models
2.5D glass on top of the screen and back
2.0GHz Snapdragon processor
TFT LED backlit display
3000mAh battery (ZE552KL model) and 2650mAh battery (ZE520KL model)
8MP front camera with f/2.0 aperture, 16MP rear camera with f/2.0 aperture wide angle 88-degree lens
3GB RAM

Zenfone 3 Deluxe

ZE570ML, ZS570KL
Top end specs
6GB RAM
Sony camera sensor
23MP rear camera
5.7-inch-screen

Zenfone 3 Ultra

ZU680KL, ZS680ML
possibly beyond phablet into tablet size range at 6.8-inches
Tru2Life+
dual speakers
23MP rear camera with OIS and EIS, fast auto-focus
6.8mm thick
4600mAh battery
Quick charge 3.0
Advanced Type-C port (possibly Gen 2 version)
Qualcomm S652
4GB RAM
Unibody design, all metal

Unconfirmed models include: ZS680ML, ZS570KL, ZC600KL (Zenfone 3 Max 6-inch), ZC551KL (Zenfone 3 Max 5.5-inch), ZC500KL (Zenfone 3 Max 5-inch)
First Images of the Zenfone 3 Line-up
You wanted quality phone cameras:
Asus is going big on the camera technology all throughout their Zenfone 3 line-up. You're getting some models with a whopping 23MP rear camera and some models coming with up to an 8MP front facing camera. Megapixel counts as most of us know by now, count only for a partial spec. There is more to photo quality than simply megapixels. Asus is touting large f/2.0 aperture and optical image stabilization (OIS) on most Zenfone 3 models. Laser auto focus and wide angle lenses up to 88-degrees or more.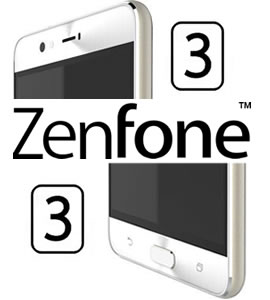 What Asus need to improve upon:
Less bloatware means more favorable reviews. They need to keep their prices lower than the Samsung Galaxy line-up. If Asus can meet or beat the best smartphone cameras on the market, this can be a big win for them.