Ever heard the expression "it's a bird, it's a plane…it's…."? Whelp, Asus has a different take on this saying. It's a phone, it's a tablet, it's a laptop. It's…all of the above?
The Asus Padfone was and is something special. It's the kind of product that pushed the boundaries of what was possible. Asus has been known to take risks and release truly innovative products as a result. Canada has never officially had a Padfone available to buy and the closest we've been is the US only Padfone X which was exclusive to AT&T. Asus has been reluctant over the years to bring any 3G or 4G LTE enabled devices into North America. Moving forward, this has slowly been changing which is why we think this Padfone story is relevant.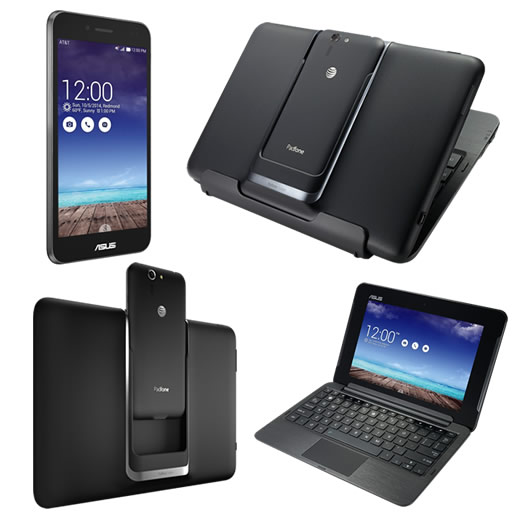 We do believe that at Computex 2016 on May 30th, we're going to see Asus introduce a Zenfone 3 Deluxe smartphone which is the next generation of the Padfone. We do believe that starting at this Zenfone 3 Deluxe unveiling, the Padfone branding will be a thing of the past. We base this change on what Asus CEO Jerry Shen said during a particular interview:
Asustek's PadFone series is likely to be incorporated into the ZenFone Deluxe line, Shen added. – August 24, 2015, Asus CEO Jerry Shen
You might be asking what's in one quote and even then there is nothing 100% definitive. As true as that may be, we can say that other details mentioned from Jerry Shen have been accurate in 2015 and 2016 so far. If you can't trust what the CEO is saying, then who can you really trust?
Asus has missed the mark in the past when it came to confusing branding of their product line-ups. Moving the Padfone into the Zenfone line-up is a smart move and it's one that should help Asus build their Zenfone brand which is very important to them at this critical juncture for their business. The Windows PC market has been taking it on the chin and Asus relied a lot on their motherboards and Windows based products to earn revenues. Mobile phones are very competitive for a reason. Smartphones are going to be in everyone's hands in the future so most every company needs to establish a brand in this space, or at least die trying.
So Padfone = Zenfone Deluxe moving forward. This is our prediction. The Padfone hasn't seen a release in well over a year, and it's pushing two years. The Padfone S and Padfone X were the last releases. The X model was for the US market and the S was for everywhere else. Only one rumor surfaced about a year ago about a Padfone S2, but since then nothing has been said. Coming into Computex 2016, we've heard nothing about a new Padfone. At the recent Asus investors conference, the Padfone was only mentioned as an innovation achievement from the past, but no mentions at all about a new model. Certainly after almost two years, Asus would make some hint or indication of a new Padfone. Unless of course the branding is no more and Asus will sneak a big surprise into their Computex 2016 presentation.
What do we expect from the Zenfone 3 Deluxe? The phone itself will be top end in terms of specs. Size would likely be the 5.5-inch variety, although it could be bigger. We would only be guessing, but 5.5-inches will be small enough to make sense as a dockable smartphone. So the Zenfone 3 Deluxe will need to have a connection that will allow you dock it into the tablet portion of the device. The Zenfone 3 Deluxe will be the "brains" of the tablet. The tablet or dock is just a display and the smartphone when docked becomes the central part of what you see and do on the screen. The Padfone experience wasn't fully realized until you docked the smartphone into the tablet and then attached the tablet into the keyboard dock. So you dock then  you dock again!
This version, the Zenfone 3 Deluxe and the accompanying accessories should be better than ever. A lighter phone will mean a more balanced experience if you dock the tablet into a keyboard. We did hear and see reviews on the Padfone S that the phone position on top meant it was a bit tippy as a laptop depending whether you tried using it on a desk vs. your lap. It was a bit top heavy, but a new version should be able to resolve that issue. With the advancements in keyboard docks that Asus will be unveiling, the actual portability and mobility of a Zenfone Deluxe tablet/keyboard combo should be very slender and light.
As before, the Zenfone 3 Deluxe smartphone will be a solid performing phone just like the Zenfone 2 Deluxe. If we are correct, the difference now will be the additional options you will get from buying that phone. You can get a tablet dock and a keyboard dock as accessories. You have added flexibility which you cannot get with any competing device. If you're at home with your smartphone, wouldn't it be nice to use it with a 10-inch display instead? A bigger screen at home makes a lot of sense especially when smartphones are becoming central to everything we do.