There are no longer surprises when it comes to the upcoming Zenfone 3 Zoom (ZE553KL). Thanks to a few regulatory bodies, the specs and images have been presented to the public prior to a suspected CES 2017 unveiling. This as we know, is sometimes how it goes in the technology world.
This new version of the Zenfone 3 Zoom is nothing like the original Zenfone Zoom model released last year. There are dual rear cameras on the Zenfone 3 Zoom and the front camera is 13MP.
The question we still have though, is this in fact the Zenfone AR model that has already been discussed. Based on the looks, we would think that yes it is. Asus didn't go vastly outside of the box regarding the camera design. There isn't anything revolutionary about having dual rear cameras. The big selling point last year on the original Zoom was the optical zoom capabilities. This model may very well have AR certification as its main selling point.
The biggest spec is the massive 5000mAh battery. This surpasses the Zenfone 3 Max battery of 4100mAh. Most consumers will likely appreciate a massive battery.
Design wise the Zenfone 3 Zoom appears like a Zenfone 3 Max. The fingerprint sensor and overall design appear an almost same look. There is nothing jaw dropping in terms of overall specs. It will have the same Snapdragon SD625 processor that's found in the main Zenfone 3 model. The rear cameras are 13MP and 12.2MP. It's a 5.5-inch AMOLED screen with a 1920 x 1080 resolution. It will come with Android 6.0.1 as well.
Size wise, TENNA lists the Zenfone 3 Zoom at 170g. The dimensions are 154.3 x 77 x 7.99mm. Oddly, these specs and weight are better than what the Zenfone 3 Max 5.5-inch model has. That said, the Zenfone 3 (ZE552KL) weighs 155g and is 7.69mm thin. So the Zenfone 3 Zoom is mid range in terms of weight and size in comparison to the other Zenfone 3 models.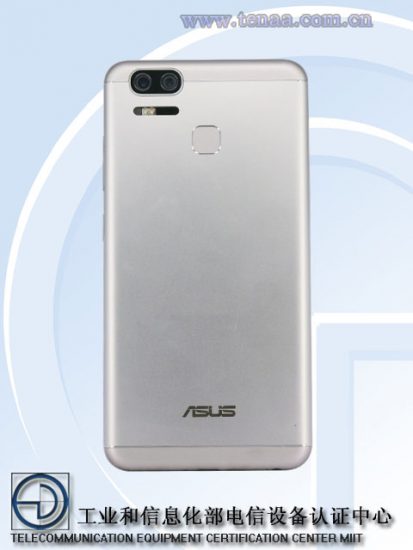 [sources: Roland Quandt / TENAA]