Okay, let's get right into this. Here is a leaked price list, unconfirmed prices however. Take it as rumor, for now.
Zenfone 4 Pro (ZS551KL) – NT$ 18,990
Zenfone 4 (ZE554KL) – NT$ 13,990
Zenfone 4 – NT$ 10,990
Zenfone 4 Selfie – NT$ 9,990
Zenfone 4 Max – NT$ 5,990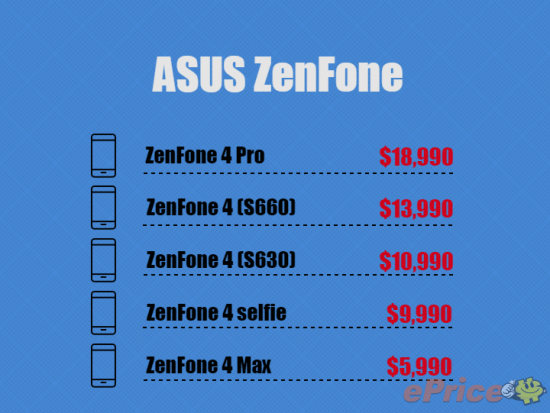 Even with translation, you can see negative comments about the prices. In fact, when this story gets out on the web, be assured most big tech sites will do a simple currency conversion to USD or CAD.
MISTAKE #1
You cannot take these prices and simply convert to CAD or USD and have an accurate price. It's false. It's wrong. It's lazy. Asus will price these cheaper than the simple conversion prices.
MISTAKE #2
The Zenfone 4 Pro is likely to be the most sought after model. It's going to be packing top end hardware that's equal to any other flagship on the planet. The only hurdle for Asus is with being priced in the range of Samsung, Apple, Google, LG and HTC. People always want cheaper. Even the new OnePlus smartphone has been criticized this year because it's higher priced than last year.
The fact here is that when you look at the Zenfone 4 Pro, spec vs. spec and design quality vs. design quality, you will find Asus offering better overall value. The Zenfone 4 Pro is going to come in much cheaper than an unlocked Galaxy S8+ or iPhone 7 Plus. The Zenfone 4 Pro is going to come right up against the HTC U11, LG G6 and Google Pixel XL. But what you will find is that Asus offers more storage and or more RAM than those competitors.
FACT:
You're going to find all top end smartphones in 2017 and beyond to be more expensive that the previous models. So Asus will be no different. The AMOLED displays are in high demand, short supply which equals more expensive. The high end components going into these premium phones are in more demand and thus costs have simply gone up.
Yes, everyone wants cheaper. It's just not realistic in 2017 however. Just wait for the iPhone 8 announcement as they will likely be setting a new astronomical price point for premium smartphones. We take these devices everywhere and they are an integral part of most of our lives. This technology is well worth the money. If you want premium, expect to pay for it.
So in the words of Bart Simpson, don't have a cow man. Phones are getting more expensive so if you want top end, it's going to cost more now than in the past. Just keeping it real folks!
[source: @ZyadAtef12 / eprice]