Update: Check out our new page for the Zenfone 3 (May 2016)
Get ready for a new unlocked smartphone in Canada. Perhaps you were disappointed in the price tag for the new Google Nexus 6. Perhaps you were disappointed by the new Samsung Galaxy S6 changes. Perhaps you want a cheap unlocked smartphone that doesn't cheap out in terms of specs and features. Well Canada, prepare yourself for the Asus ZenFone 2. When a reasonably priced, premium unlocked smartphones comes to Canada, it's worth considering for sure.
---

You can now order in the USA and Canada. Colors available include: red, silver, black and gold. The $249 CAD ($199 USD) model with 1.8GHz processor has 2GB RAM with 16GB storage, and the $379 CAD ($299 USD) model has a 2.3GHz processor with 4GB RAM and 64GB storage.
Buy Zenfone 2 in Canada:

Retailers include Newegg.ca, NCIX, Memory Express and Canada Computers.
Click here to shop NCIX for the Zenfone 2!
Now available to buy from Newegg.ca! Click here!
What are the specs/bands/available networks for the Zenfone 2 in the USA and Canada?
Update: There has been a flood of misinformation online regard the bands on the Zenfone 2. That said, we are going to post the most accurate and updated information. To be clear, the source of the bands (an authority Canadian website) first said "yes" to Wind Mobile, Mobilicity and Videotron, but later retracted that information, but then recently changed their information back to the original claims that yes, this Zenfone 2 will work for Wind Mobile, Mobilicity and Videotron. Is that their final answer? We sure hope so! To be clear, you're going to find a lot of conflicting information out there on retailer websites, blogs and comment sections. Please trust our information.
These are the bands for the Zenfone 2, North American/USA model:
GSM/EDGE (850, 900, 1800, 1900 MHz)
UMTS/HSPA+/DC-HSDPA (850, 900, 1700/2100, 1900, 2100 MHz)
LTE (Bands 1, 2, 3, 4, 5, 7, 8, 17, 20)
Compatible with GSM Networks including AT&T, T-Mobile and cellular network providers utilitzing GSM network such as: Straight Talk, Walmart Family Mobile, MetroPCS, Simple Mobile, Brightspot, Net10, h20 Wireless, and Cricket Wireless.
Not compatible with CDMA Networks such as: Verizon, Sprint, and US Cellular
The following diagram should help you understand compatibility for the Zenfone 2 in Canada: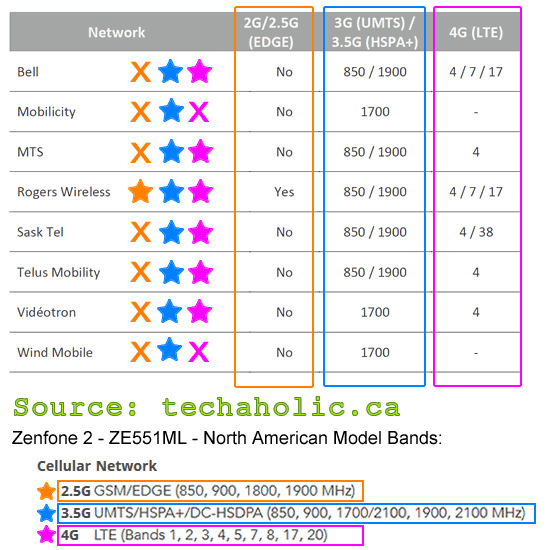 At this moment in time, buy this Zenfone 2 based on this most recent information listed in the picture above. So for the sake of clarity, here is the key information from the diagram above.
Rogers Wireless network is the only network that will allow you to use that secondary SIM card slot. Keep in mind however, that using dual-SIM cards will use more battery power.
Wind Mobile and Mobilicity are COMPATIBLE with the Zenfone 2.
How to use the chart above: Pick your network (ie. Bell), then look at the listing at the bottom of the chart under "Cellular Network". So if you're wondering if the Zenfone 2 is compatible with the Bell 4G network, reference the bands listed for Bell and cross reference and look for matches from the "Cellular Network" information at the bottom of the chart. In the Bell example, you can see that 4/7/17 are all found on the Zenfone 2.
Will the Zenfone 2 work with Wind Mobile?
Yes, the Zenfone 2 will work with Wind Mobile. There has been A LOT OF MISINFORMATION by reputable websites and reports. You may be reading comment sections that say it's not compatible, you may see specs listed that do not include the 1700 band that Wind Mobile requires. If the Zenfone 2 is the North American/USA model, then it will have the bands for Wind Mobile. A Red Flag Deals forum member has confirmed that indeed his Wind Mobile SIM works as desired. We also have the information below to further assure you.
If you still don't believe us, and that is fine based on the misinformation out there, here is a screenshot from a reviewer, nexusCFX, with the Zenfone 2 that is on the Wind Mobile network. We hope this eases your fears!
Will the Zenfone 2 work on Mobilicity?
Yes it will work on their 3G network.
Will the Zenfone 2 work on 7-11 Speak Out Wireless?
Yes it will. Because 7-Eleven Speakout uses Rogers, you can utilize the dual SIM card slots in the Zenfone 2.
Will the Zenfone 2 work on Fido?
Yes, the Zenfone 2 will work on Fido because they use the Rogers network. As with 7-11 Speakout, you can make use of the dual-SIM card slots.
Will the Zenfone 2 work on PC Mobile?
Yes it will work on PC Mobile because they use the Bell network. However, there is no 2G network so you will need a Rogers SIM card to utilize the second SIM card slot.
Will the Zenfone 2 work on Virgin Mobile Canada?
Because Virgin Mobile uses the Bell network, yes, the Zenfone 2 will work on their network.
What is dual-SIM and can I use it in Canada?
There are two SIM card slots in the Zenfone 2. However, only one can be used for 3G/4G. The secondary SIM slot can only be used by a 2G network. This can come in handy, however the use of both SIM card slots will reduce the Zenfone 2 battery life faster. We don't have data to say how much hit to battery life this will cause, but it will have some negative effect. So based on the information above, Rogers Wireless is the only network in Canada that can utilize that 2G SIM card slot. You will need a Rogers SIM card to make use of that secondary slot. You can get a SIM card from any Rogers MVNO such as: Chatr, 7-11 Speakout Wireless, Cityfone, Fido, Petro Canada, Primus, etc.
IMPORTANT: If you are making the purchase largely for the dual SIM feature, keep in mind that in Canada, the Rogers 2G network some limited coverage. If you're in a city or populated area, you are likely fine. However, it's best to see a coverage map, and ensure that it's only showing 2G and not a 2G/3G combination. We recommend going HERE to double check you 2G coverage.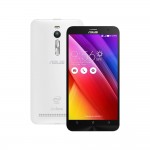 Is the 4GB –  2.3GHz version Zenfone 2 model ME551ML worth the extra price?
It's worth mentioning that the ME551ML with the 4GB and 2.3GHz processor is the only model that comes with the 18W BoostMaster adapter. What's so special about the adapter? The fact is that you can charge your battery up to 60% capacity in just 39 minutes. We don't know yet the price of the adapter but we will update the details in the coming day. Our guess is that the Asus charger will be $15 to $30 to buy in the USA.
If I buy the Zenfone 2 that doesn't come with the BoostMaster adapter, will any Qualcomm Quick Charge 2.0 adapter work?
Based on testing that has been done, yes, you can use an adapter that features the Qualcomm Quick Charge 2.0 technology. If the adapter is 18W, then it's fine. If you have some other adapter that says 9V – 2A, then it's also 18W and is the correct quick charge adapter. When in doubt though, it's always better to use the adapter that's officially for the phone. If you're unsure, I recommend that you check out this forum discussion from users of various 18W chargers with the Zenfone 2.
---
T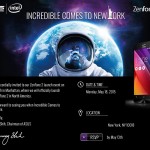 he latest news is that Asus has upped their estimates for their Zenfone smartphone sales in 2015. Previously it was 25 million units, but now they have upped it to 30 million units. My opinion? From what I'm reading, there is a lot of anticipation around the Zenfone 2, especially the flagship model the ZE551ML with 4GB RAM. When you see a buzz created for a device, it's going to be a hit. For this reason, I suggest you pre order a Zenfone 2 when they first become available. It's likely to sell out and I would expect Asus to be swamped with demand. India just got their pre order opportunity on April 23, 2015 and the hype is real in that country. That said, the actual shipping date or availability in India is set for the middle of May which is upsetting to some consumers based on early feedback on the Asus India Facebook page. North America should see similar excitement as we near the end of April and the New York event by Asus. However, if it's like India, the end of April is likely the first chance to pre order, but will ship in mid to late May. Hopefully I'm wrong on that point, but it's better to be realistic especially considering the popularity of the ZE551ML flagship model with the 4GB RAM.
Release Date: May 19, 2015
Asus just announced a "special event" in New York for April 28th. It's being dubbed a "Zenfone 2 Special Engagement". Given that date, it's pretty clear that Asus is going to announce a pretty amazing low price and that the pre order phase should start on that date also. Stay tuned for more details!
Asus first showed off the ZenFone 2 at CES 2015 and from all accounts, it's an impressive smartphone. The fact is Asus has all but avoided the Canadian market when it comes to their cellular network connected devices. Asus has brought the interesting Padfone X to the USA market as well as some 3G and 4G tablets to the USA market, but Canada hasn't seen such devices. This will be changing in April of 2015. Asus has altered their global strategy and as a result, both Canada and the United States will be seeing some of their new mobile connected devices.
If you like the idea of having a microSD card slot, then you will be happy with the ZenFone 2. It does not have a removable battery, but neither does the new Samsung Galaxy S6. It has pretty much the latest and greatest hardware at a price that should beat the competition rather handily.
Where to buy the Zenfone 2 in Canada? Should you pre order? My prediction is this. If you want a Zenfone 2, then I strongly suggest you pre order the minute those become available to you. The reason? I believe that Asus has a hot seller here and I suspect that demand is going to far exceed the availability. It's my sense of how this is unfolding based on feedback and what I'm reading from consumers out there. Smartphones are becoming far too expensive and when the likes of Samsung S6 remove features like the microSD card slot and the replaceable battery, consumers start looking around at what else is available. When pre order details come out, we will be all over it with full details for you.
It's not clear just yet which of the 4 variations of the Zenfone 2 that Asus will bring to Canada. Here is an overview of the four models, starting with the cheapest models first. The 3000 mAh batteries have fast-charge feature that lets you charge the phone for 40 minutes to bring the battery to 60 percent of capacity. Here is a rundown of the various Zenfone 2 models: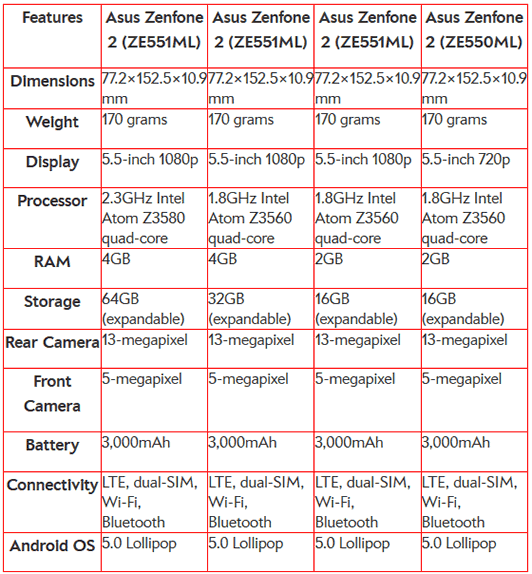 Asus ZenFone 2 (ZE500CL)
5 inch, 1280 x 720 pixel display
1.6 GHz Intel Atom Z2560 Clover Trail+ processor
2GB RAM
16GB storage
8MP rear and 2MP front cameras
802.11b/g/n WiFI
2500mAh battery
Asus ZenFone 2 (ZE550ML)
5.5 inch, 1280 x 720 pixel display
1.8 GHz Intel Atom Z3560 Moorefield processor
2GB RAM
16GB storage
13MP rear and 5MP front cameras
802.11ac WiFI
NFC
3000mAh battery
Asus ZenFone 2 (ZE551ML) 
5.5 inch, 1920 x 1080 pixel display
1.8 GHz Intel Atom Z3560 Moorefield processor
2GB RAM
32GB storage
13MP rear and 5MP front cameras
802.11ac WiFi
NFC
3000mAh battery
Asus ZenFone 2 (ZE551ML) – Top End Flagship Model

5.5 inch, 1920 x 1080 pixel display
2.3 GHz Intel Atom Z3580 Moorefield processor – 64-bit processor – Intel Gfx 6 Series
403 PPI (pixels per inch)
4GB RAM DDR 3
32GB storage,

 

expandable with Micro SD card, up to 64GB
13Mp rear and 5MP front cameras – 85 degrees wide-angle lens on rear camera
802.11ac WiFi
NFC
3000mAh battery – quick charge system that can reach 60% charge in just 39 minutes
Gorilla Glass 3
152.5 x 77.2 x 10.9 to 3.9 mm
170 grams
Network Bands/Info: (will be updated with North American bands by mid late April)

UMTS/WCDMA/TD-SCDMA/TDD-LTE/FDD-LTE
Data Rate:
HSPA+: UL 5.76 / DL 42 Mbps
DC-HSPA+: UL 5.76 / DL 42 Mbps
LTE Cat4:UL 50 / DL 150 Mbps
2G :
EDGE/GPRS/GSM :
850/900/1800/1900,
3G :
WCDMA :
850/900/1900/2100
TD-SCDMA: (CN/IN Only)
1900 ~ 2100
4G :
FDD-LTE: (TW)
2100MHz(1)/1900MHz(2)/1800MHz(3)/1700MHz AWS(4)/850MHz(5)/900MHz(8)/700MHz(28)
FDD-LTE: (WW)
2100MHz(1)/1900MHz(2)/1800MHz(3)/1700MHz AWS(4)/850MHz(5)/2600MHz(7)/900MHz(8)/800MHz(20)
FDD-LTE: (US)
2100MHz(1)/1900MHz(2)/1800MHz(3)/1700MHz AWS(4)/850MHz(5)/2600MHz(7)/900MHz(8)/700MHz(17)/800MHz(20)
FDD-LTE: (CN/IN)
2100MHz(1)/1800MHz(3)
TDD-LTE: (CN/IN)
2600MHz(38)/1900MHz(39)/1900MHz(40)/1900MHz(41)
 Zenfone 2 Price and Comparisons
Currently we have some European prices for a discussion point:
ZE500CL – 2GB RAM – 8GB = $242 CAD (179 Euro)
ZE500CL – 2GB RAM – 16GB = $269 CAD (199 Euro)
ZE550ML – 2GB RAM – 16GB = $336 CAD = $273 USD (249 Euro)
ZE551ML – 4GB RAM – 32GB = $472 CAD = $382 USD (349 Euro)
Confirmed prices in India:
ZE550ML – 16GB = $250 CAD (Rs. 12999)
ZE551ML – 2GB RAM – 16GB – $288 CAD (Rs. 14999)
ZE551ML – 4GB RAM – 32GB = $384 CAD (Rs. 19999) | 64GB = $442 CAD (Rs. 22999) | 128GB = $572 (Rs. 29999)
So let's assume you want to buy the flagship, top of the line model, the ZE551ML Zenfone 2 model. It's likely pushing $499 or higher for the Canadian market. The US market is likely to see something $499 or lower for that top end model. We haven't long to wait for official North American pricing from Asus.
The rumor right now is that the ZenFone 2 should cost between $400 and $500 CDN. Keep in mind that those prices would indicate that the "premium" model will available to buy here. If you have to decide between a 32GB and 64GB model, should Canadians have the option, then perhaps a cheaper 32GB is the way to go. I say this because you can utilize the microSD card slot to expand another 64GB. Far cheaper to get a high capacity, high speed microSD card than it is to buy the internal 64GB model. That's an assumption on my part, but it's likely accurate.
So is $400 or $450 a lot to spend on an unlocked smartphone? No, not at all. In fact the new Nexus 6, for an unlocked version is going to cost you $700 CDN and even more for the 64GB Nexus 6. When you're talking a couple hundred dollars difference, you start to see the value that Asus is about to offer the marketplace. Even if the ZenFone hit $499, it's still far cheaper than the Nexus 6 which is a larger phone, as well as unlocked, but it doesn't have expandable storage via microSD card. There has to be some value added don't you think for being able to store more media on such an expensive device?
If you want to start talking iPhone 6 Plus comparisons, then sit down. You're looking at close to $1000 for a measly 16GB Apple iPhone 6+ unlocked model. It's over $1000 CDN for the 64GB model and as with the Nexus 6, you don't have that added value of using a microSD card.
We have also heard from Asus regarding their release schedule for future Zenfone 2 models. They want to have a yearly release, similar to what Apple does with their iPhone. Asus has also stated officially that they want to release an updated model, in this case the Zenfone 2E, in the middle of the yearly release cycle. So it's quite possible that late 2015, there will be a Zenfone 2E in the market.
Photo Gallery Asus ZenFone 2 – Click on image for full HD High Resolution