Overview
Over the years, Asus has been prolific in terms of their tablet offerings. Even with the downward sales trends in the tablet market, Asus couldn't restrain their enthusiasm and came out with a wide range of ZenPad tablet releases in late 2015 and into 2016. Since that time we've heard from Asus executives that they intend to dial back their tablet releases due to the shrinking global demand.
Now in early 2017, it's safe to say that Asus made good on their promise about releasing fewer tablets. How drastic has this change in direction been? Let's just say that at Computex 2015 the ZenPad line-up was the biggest part of the event, but at Computex 2016 there wasn't a single ZenPad tablet shown during their presentation.
The 9.7-inch ZenPad 3S 10 (Z500M) is the main North American (and global) Android tablet release from Asus for late 2016 and early to mid 2017. So if you're looking for a price friendly Android tablet from Asus in Canada, this may be your only option for a while yet. You may be waiting until late 2017 for a new ZenPad from Asus.
There have been a few other Asus ZenPad tablets released in late 2016 that you may have read about. Let's clarify those releases for you.
Asus has released a different and smaller 8-inch model (Z581KL) but it's a limited release and is not available in North America. The Z581KL is not quite at the same level as the Z500M in terms of build quality and specs. However the Z581KL does have 4G LTE connectivity and voice calling abilities.
Since the initial release of the Z500M, Asus has since released a 4G LTE version known at the Z500KL. This model is a limited release and is not available in North America. It has a few differences aside from the mobile network connectivity. First, there is no fingerprint sensor on the Z500KL. Secondly, the Z500KL has a Snapdragon processor instead of the MediaTek processor that's found in the Z500M.
If you're from the US, Asus has partnered with Verizon and offer a 10-inch and 8-inch Android tablet, both with 4G LTE connectivity. Those two tablets are very similar to the Z581KL and Z500M models, but there are some differences that you should check out beforehand.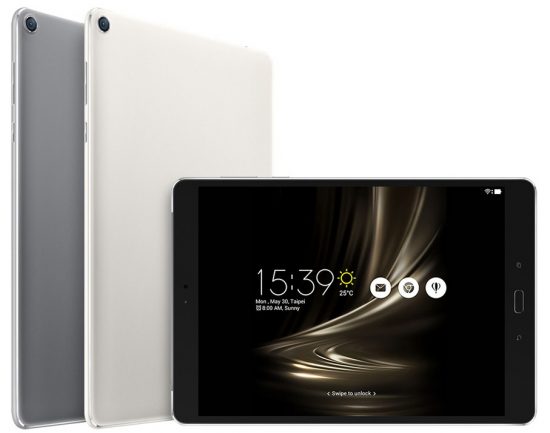 The ironic aspect of this story is that Asus may have their best tablet yet in the ZenPad 3S 10 (Z500M). One of their best ever tablets was not unveiled at their biggest show (Computex 2016) and it came to market with little fanfare or marketing push. It keeps selling out so this should speak to Asus that they are onto something here.
So the new strategy with less tablet releases appears to be paying dividends in that Asus has produced a better product. If you put your efforts into fewer products, you would expect the quality of those products to improve.
Asus has built a reputation over the years for price friendly products. Asus has been able to maintain their pricing tradition with a $299 USD price tag for the ZenPad 3S 10 (Z500M) tablet. But as we found out, there is a lot more to like about this tablet than just the cheap price.
Can the ZenPad 3S 10 deliver an unbeatable Android tablet experience?
Spec Overview
What is the most critical aspect of a tablet? A lot of people will say battery life. We say display is king though! The ZenPad 3S 10 (Z500M) provides a 9.7-inch QXGA display with a 1536 X 2048 resolution.
The processor is a MediaTek MT8176 processor (2.1GHz) with two ARM Cortex-A72 cores, four ARM Cortex-A53 cores (1.7GHz). If that's too technical for you, then just be assured that for most people this tablet will provide a smooth user experience. This tablet comes with 4GB of RAM.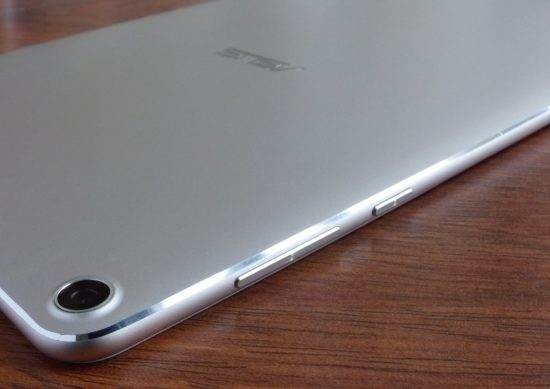 Speaking of battery life and its importance, the ZenPad 3S 10 comes with a 5,900 mAh battery. Important to some of you, this tablet also has the Qualcomm Quick Charge 3.0 technology onboard. However the required Quick Charge power charger is sold separately.
You get a decent 64GB onboard storage with microSD expandability, 5GB lifetime Asus online storage and 100GB Google Drive storage for two years. The microSD card option can get you up to 128GB additional storage.
Rounding out this quick look at the specs: Android 6.0 Marshmallow operating system, Z Stylus compatibility, finger print sensor, USB-C port, 8MP rear and 5MP front cameras, weighs 430g, 5.8mm thin, Grey or Silver colors available, and comes with dual stereo speakers.
First Impressions
When you first unbox and unwrap the ZenPad 3S 10 you will be quite impressed I'm sure. You are greeted with smooth edges, sleek lines, subtle chrome trim, aluminum body, light weight and thin design. Our review unit is the Glacier Silver which has white bezel and silver back.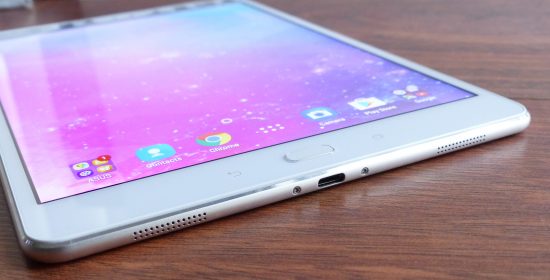 On the front of the tablet you will find the finger print sensor. It is the home button and is blazingly fast when unlocking the tablet.
The power and volume buttons are quite impressive. Asus as part of their "Zen" design, is big on the "concentric circle". Can you imagine they added a circular texture to their tablet buttons? It's true and the feeling is absolutely fantastic! Yes, you can feel the circle pattern on your finger tips when pressing the buttons. No joke, these buttons feel great to the touch and have terrific response.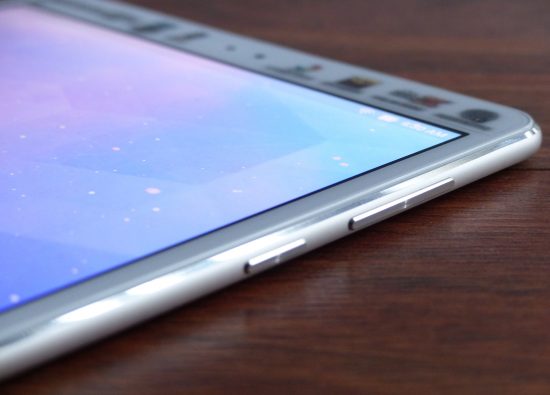 Without even turning on the ZenPad 3S 10, there is a lot to like and admire.
Display
With the 4:3 size and 1536 X 2048 resolution, the ZenPad 3S 10 provides a flagship viewing experience. Icons and text are clean and sharp. Video and photos are equally impressive.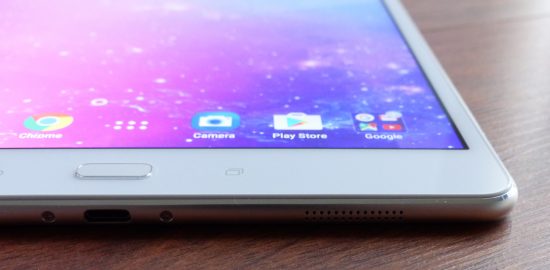 Brightness is another aspect of a display and based on nits (brightness rating), the ZenPad 3S 10 is right at the top of class. The ZenPad 3S 10 is rated at 426 nits according to LaptopMag.com statistics. This rating compares to the iPad Air 2 which has 368 nits, the Huawei MediaPad M3 at 427 nits and the Samsung Galaxy Tab S2 at 450 nits. Be assured that the display of the ZenPad 3S 10 is very bright and will allow reasonable outdoor use performance.
Asus does provide some visual technology on-board, namely Tru2Life. Essentially this means the tablet can provide optimal contrast and sharpness.
So those of you who enjoy tweaking settings, Asus does provide some display settings that you can play with. The Asus Splendid app does have some presets that may be of use, such as the Bluelight Filter mode which is apparently ideal for night time use. In our usage though, we were fine with the defaults.
Without getting out high tech testing equipment, the eye test says the ZenPad 3S 10 is going to satisfy most everyone.
Battery Life
Be assured that we ran multiple tests with different settings. We are going to condense our findings into an easy to understand format. We put the ZenPad 3S 10 (Z500M) through its paces, in the type of situations that are most common. We want to provide some real life, common usage scenarios.
In most instances a tablet needs to make it through a day. Most of us can charge up a device at the end of the day and this routine is a formality that we are familiar and comfortable with.
You may be happy to know that the ZenPad 3S 10 (Z500M) does come with a quick charging technology. Any concerns about battery life can be tempered with the purchase of a certified Quick Charge 3.0 power adapter. Asus says this technology can boost your battery 4X faster than the included charger.
If you also add the convenience of a portable battery pack, you begin to realize that battery life isn't as critical as it once was. Wanting more battery life out of a device is understandable but it shouldn't be a deal breaker. With all this said, battery life is like money. Everyone wants more.
If you want to watch two, 2-hour movies with full brightness, you will have around 30% of your battery life left. If you dial back the brightness to around 50%, you will have around 64% of your battery life left after watching two, 2-hour movies.
Some movies are 1080p, some are 720p and some are even lower resolution. Obviously variables change battery usage, but our tests were performed using a 1080p video played from internal storage, audio at 50% volume through onboard speakers, testing both 16:9 and 4:3 aspect ratios, and airplane mode enabled.
Gaming wise, if you spend one hour playing graphically demanding games at full brightness you will use about 30% to 40% of the battery life. If you dial back the brightness to around 50%, you will use about 20% to 25% of the battery life.
Obviously every game is different, but we played various high performance and graphically demanding games. If you are playing more casual games, then obviously you will see less battery drain that during our tests. We give you the worst case scenario under the most intensive gaming situations.
Standby battery life performance of the ZenPad 3S 10 was stellar. In a 24 hour period the battery would not even lose a percentage. You can literally leave the tablet sit for days and lose 2 or 3% only. You can improve the standby battery life even more by making use of the Asus power saver settings prior to setting the tablet aside for longer periods of time.
So overall the battery life of the ZenPad 3S 10 is average for this class of tablet. It's not going to stretch to the extent of an Apple iPad, but it's still going to be sufficient for most people.
It's quite clear from our testing that substantial battery savings can be made from dialing back the brightness to 50% or less. This may be obvious, but the savings can be as much as 50% when comparing to using the tablet at full brightness.
It's prudent for us to talk about charging the ZenPad 3S 10 battery. As mentioned previously, this tablet comes with Qualcomm Quick Charge 3.0 technology but you need to buy the adapter separately. Based on marketing materials, Quick Charge 3.0 is four times faster and can get you from zero to 70% in around thirty minutes time.
Using the included charger in the box (not Quick Charge 3.0), you can go from zero to 100% in around 3 hours. Most times though you will not be running the battery dead before charging. So if you're topping up from around 30 to 40%, you're looking at around 2 hours charging time to make the battery full.
Audio
Asus touts a lot of audio technology onboard the ZenPad 3S 10. It's more a question of what's missing rather than what they have included here. If you aren't technical this list may not impress you and that's fine. We will list the onboard technologies for those with audio expertise who can appreciate the finer details.
Two 5-magnet speakers
4x cd quality
1-channel virtual surround
Hi-Res Audio
dts Headphone:X
dts-HD Premium Sound
NXP Smart AMP
24-bit/192kHz output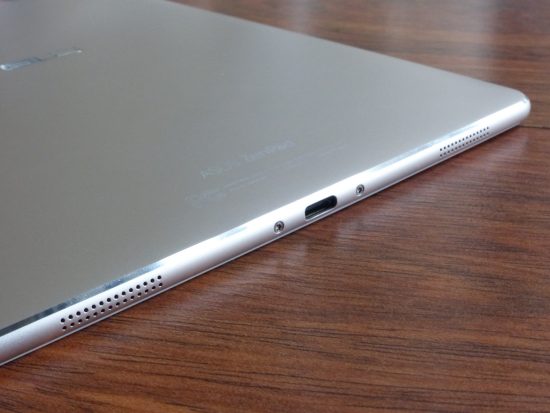 Our minor quibble is that the speakers are side mounted along the bottom edge of the ZenPad 3S 10. That said, the iPad series has their speakers in a similar location as do many other flagship devices.
One design feature that we did like about the speaker placement on the ZenPad 3S 10 is that they are separated to allow for a wider stereo sound. If you look at these compared to the iPad Air 2, Asus has a far better speaker placement.
Asus last year though did make a big effort to have front facing dual speakers on their ZenPad line-up. Side facing is a downgrade to front facing but most likely there are design issues and only so much can be done when you get a device this thin.
The onboard speakers are solid and clear. You can get ample volume without distortion. With the tablet being so thin and light, there is not a lot of bass or bottom end generated but this is par for the course. A bigger thicker tablet can get more bottom end, so it's ultimately a tradeoff.
There is no question that the ZenPad 3S 10 really shines when you utilize headphones. The Asus Audio Wizard becomes far more usable and tweaking settings has more effect. The DTS HeadphoneX technology is not just handed out to any device. It requires a certain level of quality for that technology and certification and Asus delivers a delightful audio experience because of it. We did some testing and the range of sound is stunning, especially when watching action movies.
Operating System
The ZenPad 3S 10 (Z500M) ship with Android 6.0 Marshmallow with ZenUI 3.0 integration. If you're not sure about ZenUI, it's essentially an Asus modification or layer on top of the Android operating system. For some people it might mean bloatware but that is short changing ZenUI 3.0 in all honesty.
ZenUI offers a large amount of customization in terms of look and feel of the OS. That means plenty of wallpaper and theme options are available for free to download. Some wallpapers provide animation and can change their look depending on the time of day. There are plenty of customization tools and you can spend a lot of time creating a look that you like.
Asus ZenUI does include pre installed apps, commonly referred to as bloatware. Certainly bloatware has been a knock against Asus from their Zenfone 2 and first generation ZenPad rollout. Since then, it does appear that Asus heard the feedback and has subsequently allowed the disabling or removal of pre installed apps this time around. You may still hear negativity about Asus bloatware but a lot of that is based on reputation rather than reality.
It's not fair to disregard some of the pre installed apps either. There are in fact some nifty Asus apps installed which are as good as anything else you can find. File Manager, Audio Wizard, SuperNote, Camera, ZenSync, Gallery, ZenMotion, and Keyboard are just a few of the helpful apps included on the ZenPad 3S 10. Is it fair to call apps like Calculator, Fingerprint Sensor, Weather, and Clock bloatware? Game Genie is a bit intrusive for a pre installed app but you can disable it.
Highlights for us regarding the operating system and ZenUI 3.0 would have to include the keyboard customization and personalization options.
First with the keyboard, you can easily increase the keyboard size. This provides bigger targets for your fingers which may or may not struggle with typical touch keyboards. You can increase the size of the keyboard to the point that it takes up ¾ of the screen. You don't need to worry about it getting in the way either. We used the maximum keyboard size during our testing and we can assure you there is nothing to fear. When the keyboard pops up to enter text, you don't need to see anything else on the screen. Making the keyboard bigger simply makes it better and more user friendly.
We also liked the personalization options that ZenUI 3.0 provides. Browsing the theme options and tweaking the look and feel of the operating system was well worth it. Increasing the overall font size being used was helpful, as was increasing the size of the icons. It's the customization aspect of the ZenUI 3.0 that does make it stand out. If you find tiny lettering or small icons troublesome, the ZenPad 3S 10 will be to your liking.
Rather than a negative, we are rather fond of having ZenUI 3.0 on top of the otherwise bland pure Android operating system. Lots to explore and personalize if you so desire.
Benchmarks
We took a look at a few different benchmark software results and compared them to other popular tablets on the market. It's best to look at the overall comparisons rather than putting too much emphasis on one benchmark over another. Also consider at this point that the technology inside the ZenPad 3S 10 is new and is going to handle pretty much anything that you can throw at it.
Vellamo – Metal (Processor and Memory)
2589 – ZenPad 3S 10
1474 – Samsung Galaxy Tab S2 (source: PhoneArena.com)
Antutu
74923 – ZenPad 3S 10
50148 – Samsung Galaxy Tab S2 (source: PhoneArena.com)
62856 – Apple iPad Air 2
GeekBench 4.0 (single core / multi-core)
1571 / 3231 – ZenPad 3S 10
1842 / 4604 – iPad Air 2
1257 / 4364 – Galaxy Tab S2
471 / 1433 – Galaxy Tab A (10.1-inch)
659 / 1678 – Nexus 7 (2013)
ANDEBench Pro 2015
7009 – ZenPad 3S 10
5221 – ZenPad Z8
7799 – ZenPad S 8.0 (Z580CA)
6490 – Galaxy Tab S
Basemark OS II 2.0
1674 – ZenPad 3S 10
1910 – iPad Air 2
1066 – Galaxy Tab S2
1890 – Nexus 9 (source: GSMArena.com)
1128 – iPad Air (source: GSMArena.com)
Z Stylus Accessory (Sold Separately)
We want to provide some details about the Z Stylus digitizer pen that is available for the ZenPad 3S 10 at a price of $30 USD. It's an often overlooked feature of this tablet in most of the reviews out there.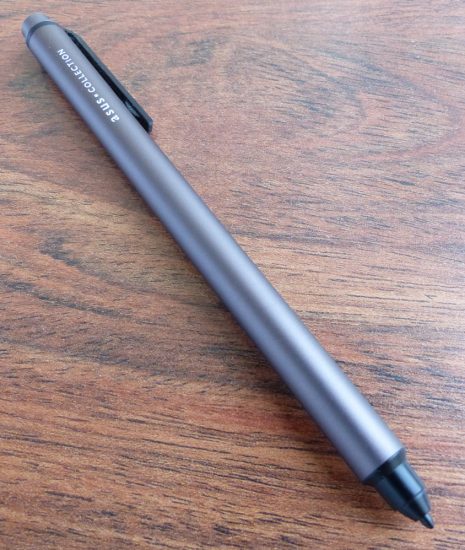 Specs wise, the Z Stylus has 1024 levels of pressure sensitivity and a 1.22mm tip. The battery life is said to be 150hrs although we can't test the validity of that claim.
One of the big issues with stylus pens on tablets is with accidental screen touches. Most stylus pens offer technology that says if the tip comes close to the screen, then the touch is disabled and its pen only. On the surface that would seem sufficient, however in practical terms it's not.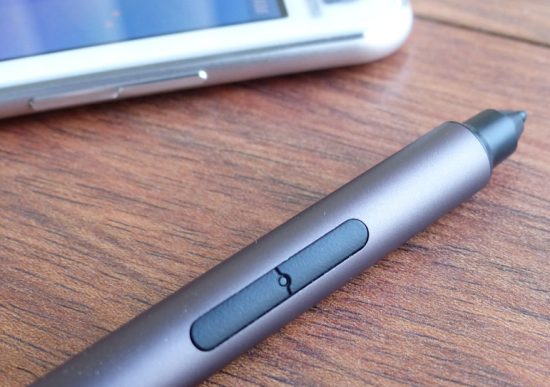 If you're writing on the tablet you need it to be like a pad of paper. You need to grip the tablet and here is where it gets tricky. Moving your hand around a narrow bezel without brushing the screen is a challenge. The other issue is where can you rest the palm of your hand?
Asus has a solution in their Z Stylus settings which is called "Stylus only mode". This all but eliminates accidental screen touches while using the stylus. When the stylus engages with the screen, you can set the number of seconds (up to 5 seconds) where the screen will disable touch. This means if you lift the stylus off the screen for a pause or thought, you don't have to worry about where you are gripping the tablet to hold it. It really allows a user to treat the tablet as if it were a pad of paper. This isn't achievable without this "Stylus only mode" setting and Asus really did a masterful job on this.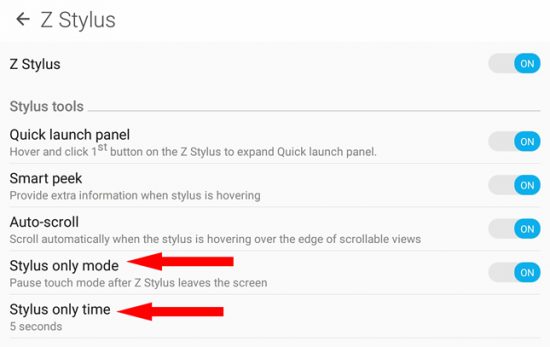 The pressure sensitivity is compatible with apps that have digital stylus support. On the ZenPad 3S 10 is SuperNote which is going to provide a wide range of functionality in terms of note taking or drawing. The app is rich in uses and you may not need to look at anything else to make use of the Z Stylus.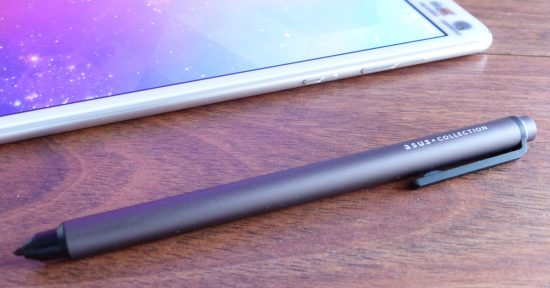 We don't have the resources to compare the Z Stylus against the competition like the Apple Pen or Microsoft Surface stylus. At $30, the Z Stylus is functional and is helpful in a wide number of scenarios, including school related tasks such as studying or practicing math.
Cameras
Asus put an 8MP rear and 5MP front facing camera into the ZenPad 3S 10. These are certainly adequate cameras that can get the job done but at the same time your expectations should be tempered. Tablet cameras are one area where costs can be cut to help make cheaper price points without too much consumer uproar. By no means are the ZenPad 3S 10 cameras feeble. You can certainly get good photos and videos from this tablet.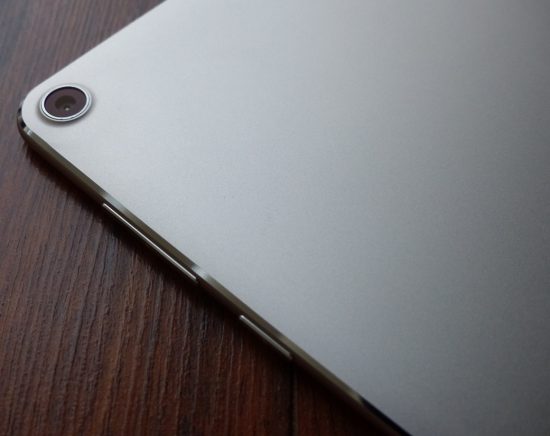 We found that a bit of patience is required when seeking that "perfect shot". Lighting can wash out a photo if the environment is too bright or too little lighting can cause graininess or blur issues. You can however adjust the focus point on the display prior to taking a photo which should bring things into focus better. It's just that you may need to snap two or three photos to get one you're happy with.
The best part of the cameras on the ZenPad 3S 10 is the camera app which does make choosing and using the various presets rather simple. There are presets like HDR, GIF Animation, Panorama, Time Rewind, Selfie, Low Light, Slow Motion, Depth of Field, and others. If you have younger members of your family I'm sure they will find lots of fun and value in the "Effect" preset.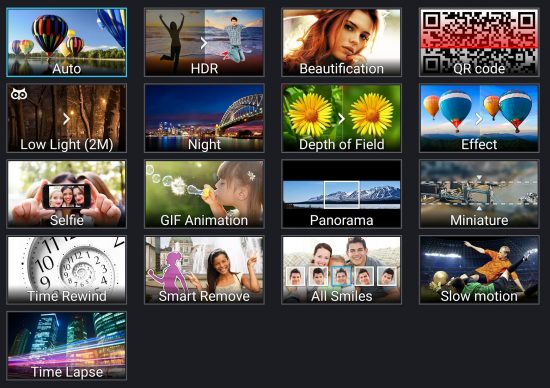 The front and rear cameras are capable of shooting 1080p quality video. The results are decent, but it's challenging keeping a steady hand. You aren't getting your typical stabilization technology, so you need to be more aware of hand shake.
With the 5MP front facing camera, it's very suitable for quality video calls while using apps like Skype. Images are crisp and clear. You will find that this 5MP camera is better than what you find on other tablets like the iPad Air 2 or Samsung Galaxy Tab S2.
With it being 2017 and the rise of the smartphone, we don't think it's wise to put too much emphasis on tablet cameras. Also keep in mind that the ZenPad 3S 10 is basically a 10-inch tablet which makes it more of a cumbersome photo taking device than a more compact 7-inch or 8-inch tablet.
Conclusion and Summary
In terms of value at a $299 USD price point, the Asus ZenPad 3S 10 (Z500M) is highly recommended. The build quality and display is something that is found on more expensive flagship tablets, yet Asus can give you the same for less.
On the software side of things, some people might be hassled with having to remove or disable some pre installed apps. More than bloatware, Android updates like Android 7.0 Nougat have not been officially slated yet for the ZenPad 3S 10. This is an unknown and concern is certainly understandable. With only a few tablet releases this year, it's hard to imagine Asus not providing the Android 7.0 Nougat update.
More battery life is something that we all want but the ZenPad 3S 10 is about average in terms of battery consumption. Turning down the brightness, Quick Charge 3.0 and portable battery packs are all options which make battery life less of a concern for those extended use scenarios.
Last year's ZenPad tablets had front facing speakers and we sure wish Asus could have done the same with the ZenPad 3S 10. The speakers on the ZenPad 3S 10 perform just fine in the side mounted position, but front facing speakers trump side facing.
There are really not a lot of negatives that we could find in the ZenPad 3S 10. This is just the truth of the matter. Certainly there are no deal breakers that we could find.
Pros:
Excellent build quality
Cheap price
Bright and crisp display
Z Stylus compatible
Cons:
Unknown future Android updates
Hard to find in stock in Canada
Doesn't include Quick Charge 3.0 power adapter
Doesn't have front facing speakers like previous ZenPad tablets