Overview
In the past few years, sagging Windows PC and tablet sales have forced companies like Asus to look at other areas of growth and revenue. It has been clear that Asus executives believe that the mobile market is a key revenue generator. It was a necessary transition but certainly a daunting task given the established competition in the mobile phone space.
Although Asus had released some previous Zenfone models, it was the Zenfone 2 launch that signaled a new chapter for the company. With an aggressive price point and top end hardware, Asus brought the Zenfone 2 into the market with a true sense of purpose. It came with top end hardware at an impressive, never before seen price point. With a big splash, the Zenfone brand was on its way.
In early June 2016 at Computex in Taipei, Asus unveiled the next generation Zenfone 3 series. With this launch, Asus pushed their marketing efforts and sales goals even higher. The line-up consists of the following:
High end and premium price – Zenfone 3 Deluxe (ZS570KL)
High end and unique design – Zenfone 3 Ultra (ZU680KL)
Mid range and affordable price: Zenfone 3 (ZS550KL, ZE552KL and ZE520KL)
Mid to lower range and cheaper price: Zenfone 3 Laser (ZC551KL)
Low end budget with cheapest price: Zenfone 3 Max (ZC520TL and ZC553KL)
After some delays, the Zenfone 3 series finally made its way to the North American market in the fall 2016. The bad news for Asus is that there is increased competition in the North American market as unlocked smartphones from China manufacturers are showing up like never before. But there is some good news for Asus as we get into 2017. Their Zenfone stock levels have stabilized after being sold out in a lot of instances. Good news for consumers lately as prices have occasionally dropped by as much as $40.
We should also mention that if you're from the US or Canada, there is a confusing availability situation. In Canada, the Zenfone 3 Deluxe is not available, but it is in the US market. The US market does not have the Zenfone 3 (ZE552KL) but the Canadian market does. Both markets have the Zenfone 3 Laser and Zenfone 3 Max.
We are reviewing the Zenfone 3 (ZE552KL) which is targeted as their mid range phone offering. It's meant to be a versatile performer with a reasonable price. Ultimately this model is more about attractive price than it is about cutting edge top of the line hardware. If you are looking for a model with top end specs, then you need to be looking at the Zenfone 3 Deluxe instead. But with 4GB of RAM and a Snapdragon S625 processor we can't really consider this a mid range phone. It's better than what "mid range" implies.
The Zenfone 3 (ZE552KL) is priced anywhere from $389 CAD to $429 CAD. For an unlocked phone that's fully capable, this is an attractive price point. If you shop around you will realize that this phone is almost half the price of other available unlocked smartphones.
The Zenfone 3 (ZE553KL) is a phone that should not be compared with the iPhone 7, LG G5, OnePlus 3 or Samsung Galaxy S7. To keep this in perspective, you could buy two (almost three) Zenfone 3 (ZE552KL) phones for the price of one unlocked iPhone 7 Plus in Canada.
Specs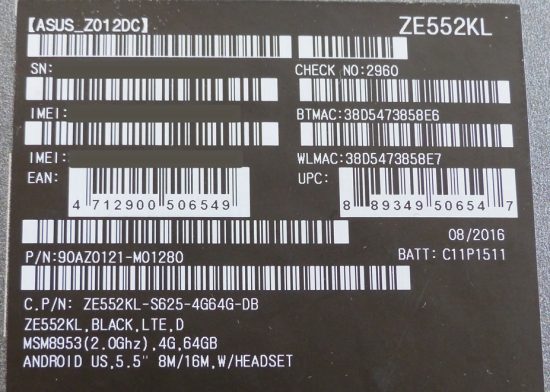 The Zenfone 3 (ZE552KL) comes with a 5.5-inch super IPS+ display with a 1080p FHD resolution of 1920 x 1080 pixels. The brightness is rated at 600nits.
Our review unit shipped with Android 6.0 Marshmallow, but at the time of writing this review, Asus has just starting rolling out the Android 7.0 Nougat update. The update to Android 7.0 should be globally available by mid January 2017.
Inside is a Snapdragon 625 (2.0GHz) octa-core processor with an Adreno 506 GPU. Our review unit comes with 64GB eMCP storage which is expandable via microSD card slot (up to 2TB) and 4GB of RAM. Different regions may have slightly different storage and RAM options.
The Zenfone 3 weighs in at 155g or 5.46 ounces. It's 7.69mm or 0.3 inches thick. It has a 2.1mm bezel which provides a 77% screen-to-body ratio. The body is metal, covered by Gorilla Glass on the front and rear.
The rear camera is 16MP and the front facing camera is 8MP. The Zenfone 3 is also capable with video recording and can capture 4K (3840 x 2160) at 30 FPS. Both photo and video have optical and electronic image stabilization technology.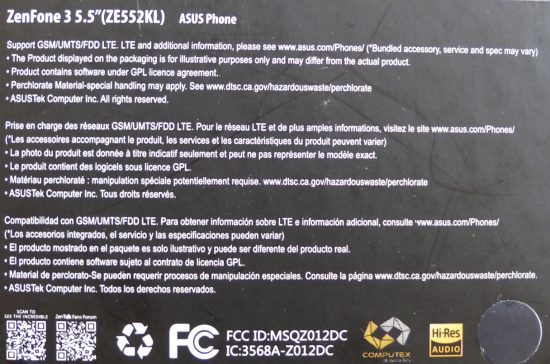 Audio wise, there is a 5-magnet single mono speaker located on the side (bottom) of the phone.
The Zenfone 3 is a dual-sim phone, but only one SIM card can connection to 3G WCDMA / 4G LTE service at a time. If you are using a microSD card, then there will only be one available SIM card slot available.
Colors available include a dark blue which is sometimes listed as black, gold, and white. Our review unit is dark blue (black).
Software version during our review period: WW_13.20.10.152_20161222
Build Quality
Asus has demonstrated over the years an ability to create attractive devices. Be assured that the Zenfone 3 (ZE552KL) is no exception.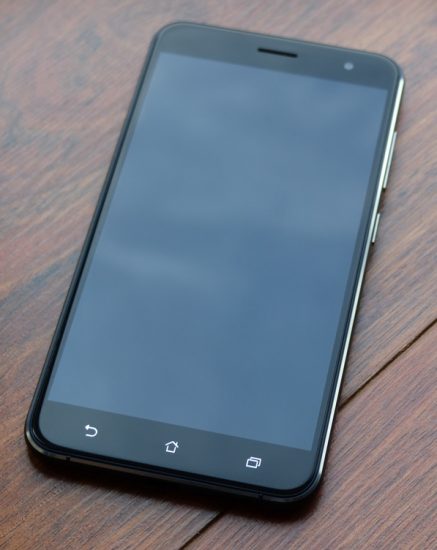 Asus touts their design as featuring "diamond-cut" edges which speaks to the level of precision and smoothness they have achieved. We can certainly confirm that the rounded edges of the phone are extremely smooth and a pleasure to feel in hand.
There is a chrome trim running along both the top and bottom edges of the Zenfone 3 which adds a touch of elegance to the phone.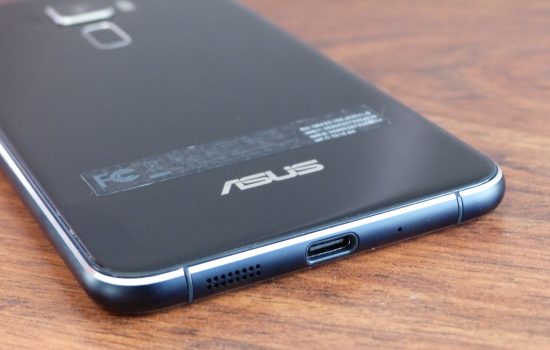 By looking at the ZE552KL you would not suspect that it's the mid range model of the line-up. It's much more premium looking.
Think of the Zenfone 3 as a phone that is wrapped in a layer of Gorilla Glass. They call this 2.5D Corning Gorilla Glass. It's smooth, almost to a fault. Certainly the Zenfone 3 is beautiful looking, but in its bare form without a case or cover, it's a slippery device. Gorilla Glass is super tough but it's human nature to see something wrapped in glass and think that it's fragile. If you buy this phone, get some protection on it.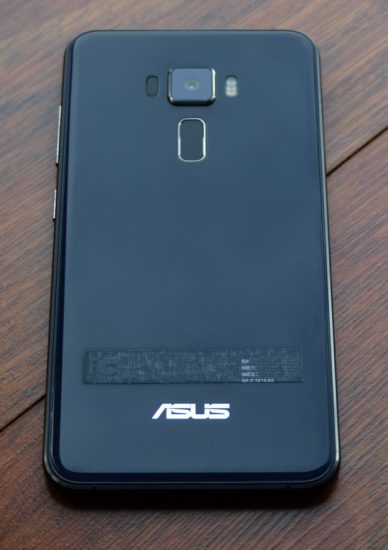 The fingerprint sensor is located on the rear of the phone which is not our preferred location. It's certainly fast and accurate, but the location isn't exactly ideal. For example, being able to unlock the phone via the sensor while it's laying flat on a table isn't possible. It's also located high up on the back of the phone is a spot where you will awkwardly need to adjust your hand and finger position from how you would normally hold the phone. To be clear, this isn't an uncommon location for a finger print sensor. This is a personal preference and the location may be a non issue for you. The fact is a finger print sensor is a terrific feature to have on this phone regardless of where it's located.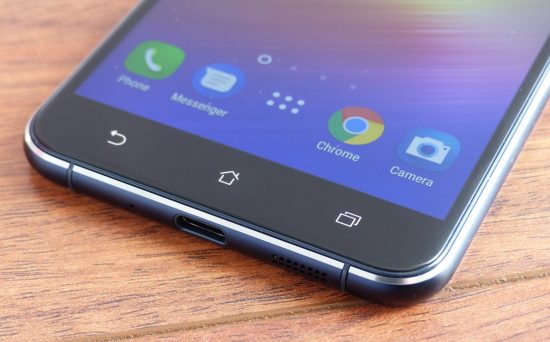 The volume rocker and power button are noteworthy. Not only is the button response excellent, they also feature the "Zen" concentric circle design which is very evident to your fingers when your press them. These buttons have a terrific non-slip texture thanks to the circle design. It's a subtle yet functional design choice by Asus.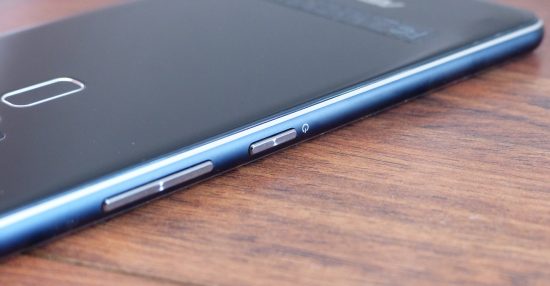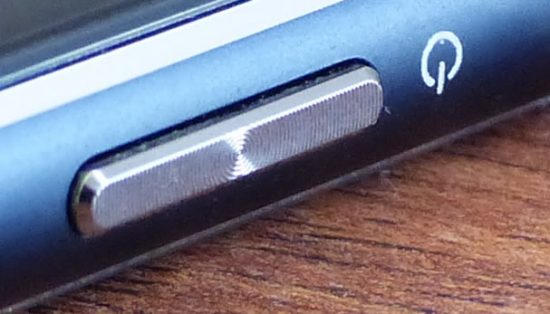 The capacitive buttons on the front of the Zenfone 3 do not illuminate. The capacitive buttons are etched onto the surface of the phone with silver lines on a black background. With the reflective nature of the silver/chrome lines, these buttons are easy to see. Your home, back and recent tasks button locations should be almost automatic for most users so this should not be problematic.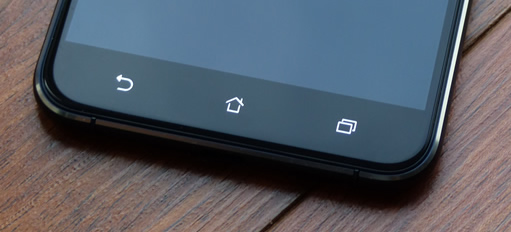 If you're coming from a device which has a different configuration, such as the back button on the left side of home, then allow a bit of time to adjust.
Overall the Zenfone 3 possesses a true premium look and feel without the premium price tag.
Display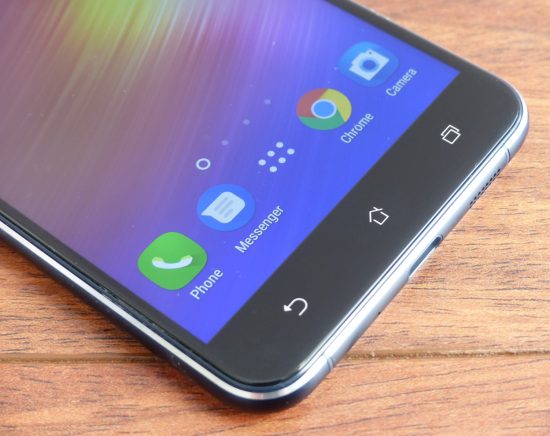 The display of the Zenfone 3 (ZE552KL) is one of the strongest features of the phone. The brightness simply pops. It's bright enough that you should manage quite well in bright sunny outdoor environments.
Asus lists the Zenfone 3 as having 600nits brightness. To really gauge this, we need some comparative data. These are the nits ratings on other smartphones:
iPhone 7 Plus – 672
Galaxy S6 Edge – 610
iPhone 7 – 603
Zenfone 3 (ZE552KL) – 600
Huawei P9 – 584
iPhone 6 – 560
Galaxy S7 Edge – 498
Zenfone 2 – 442
Google Pixel XL – 433
BLU Vivo 5 – 320
(source: anandtech.com and phonearena.com)
From any data you can find out there, the Zenfone 3 (ZE552KL) delivers a super bright display. Even with its lower price point, the Zenfone 3 is right alongside the more expensive flagship smartphones when it comes to brightness.
As you would expect from a smartphone with a quality FHD 1920 x 1080 resolution display,  everything looks crisp and sharp. We don't have display analysis equipment but we do have experienced eyes. We are confident is saying that you will be happy with what you see here.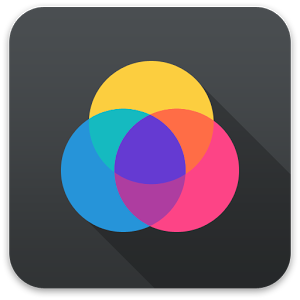 The Asus Splendid app gives you some customization settings for hue, saturation, and color temperature. As well there are some presets which are somewhat unnecessary. The screen is lovely just as it is.
One mode/preset worth looking at is the Bluelight filter. Being exposed to too much blue light can affect your ability to sleep. It's fact not fiction and don't think of this as being a slick sales pitch. You can read the Asus article on the subject here. The point is, the bluelight filter mode is handy for times when you are reading in a darkened room before sleeping.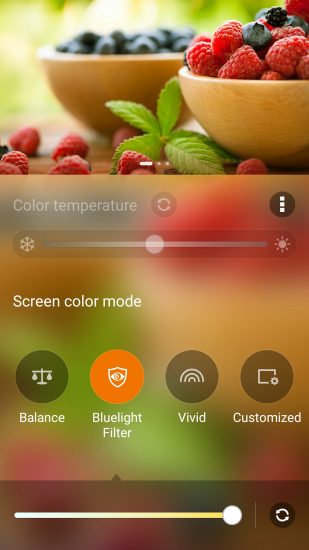 Sound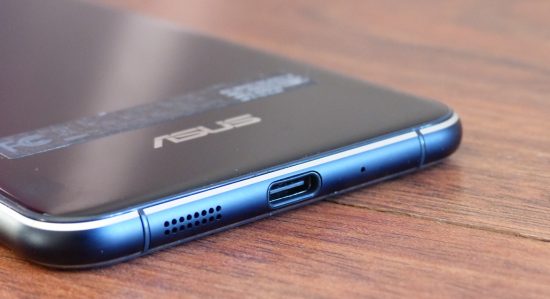 The Zenfone 3 (ZE552KL) comes with a single mono speaker which is side mounted on the bottom of the phone. This is a typical speaker placement on smartphones. When it comes to smartphone speakers and audio quality, there is a limited expectation. There just isn't that much to dissect here. What we are looking for is it loud enough and does the audio distort at higher volumes.
Thanks to the 5-magnet speaker, the Zenfone 3 (ZE552KL) can reach full volume without distortion. The actual volume is good and will rise above reasonable background noise. If you're watching a video or playing a game there is enough punch from the speaker to hear sounds in a noisy environment.
Nothing spectacular here but the onboard speaker does what you would hope for. Clean, loud audio.
Where the Zenfone 3 audio excels is in external speakers or headphones/headset usage. The Zenfone 3 is capable of Hi-Res audio output at 192KHz/24-bit which is obviously a far more magical audio experience than what the onboard speaker can provide.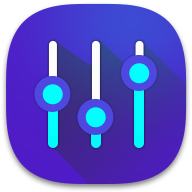 Asus includes an "Audio Wizard" app which provides some presets and some additional EQ tweaking.
Where this app really excels is when you plug in a headset/headphones or external speaker. When you change audio presets while using the onboard speaker, the change is barely noticeable. However when you have audio outputted to a different set of speakers, the app settings and effects are profound.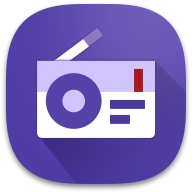 Audio wise it's also worth mentioning that Asus includes a FM player app. All you need is a wired connection to a headset/headphones or external speaker (provides the needed antenna) and you can enjoy local FM radio stations in clear sound and song information at the same time. This app won't work via Bluetooth connection.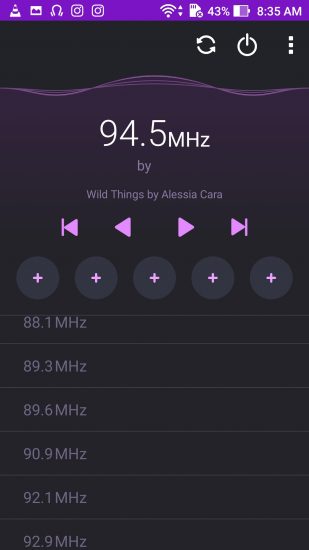 Battery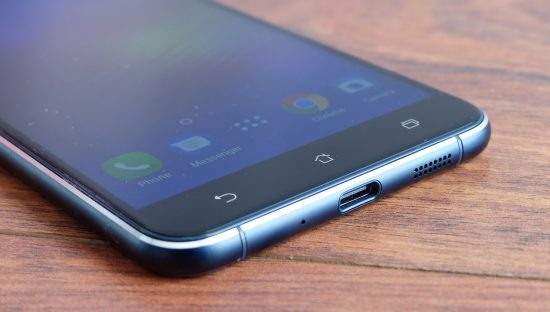 The Zenfone 3 (ZE552KL) comes with a 3000mAh battery. Given the processor is the Snapdragon 825 which provides more power efficiency over processing power, the Zenfone 3 should fetch decent results.
First let's talk standby time. In situations where you can leave your phone for a day or two while connected to wifi rather than relying on data, your results will naturally be better. Leaving certain apps running in the background can have dramatic negative effects on standby time as well.
We should first make mention of some built in battery saving customization that's available on the Zenfone 3. In the performance settings, you can set a time frame for the phone to reduce power usage. So if you have a set sleep pattern, you can easily set the phone to a low battery use mode during the night while you sleep.
If you are in a situation where you know the phone will be inactive over an extended period of time, there are simple options available to you as well in the "Power Management" settings.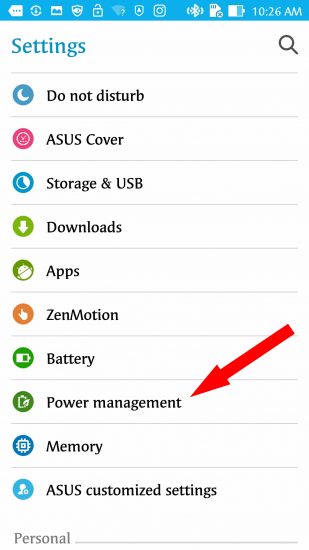 You can then choose "Power saving" mode or "Super saving" mode. Both of these options are quick and easy solutions to extend standby battery life. Sometimes it's just easier letting these modes take care of shutting down background tasks that you may be unaware of.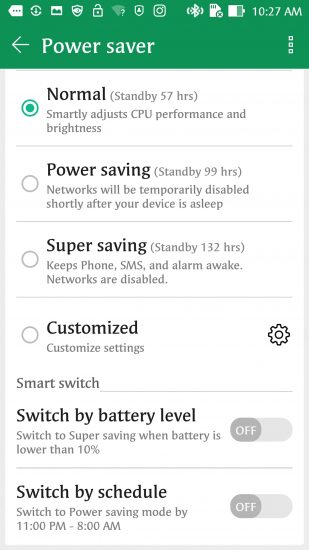 About Our Battery Testing Procedure: Our battery testing environment is being done with the battery levels listed in the operating system. So we are relying on the percentages that the Zenfone 3 is displaying before and after these test periods.
In our testing, with the Zenfone 3 running in "Normal" mode and wifi on, during an 8 hour overnight period we would typically see around a 3% battery drop. This result is about average for smartphones, but consider that during our Asus ZenPad S3 10 tablet overnight standby test, the percentage wouldn't drop a single percent.
Battery Charging: It's also worth mentioning that the Zenfone 3 (ZE552KL) does NOT have the Quick Charge technology. You may have read other sources saying that this phone has Quick Charge but those sources are incorrect. However, when you consider our charging testing times this should not be a big deal at all.
We ran a variety of charging tests which means we started charging the phone at different starting points. As it turns out, topping up a battery is a bit more time consuming than charging from an almost fully depleted battery. Overall though you should be happy with how quickly you can get the battery charged.
When charging from a nearly depleted battery, you can get around 60% of charge in around 1 hour. If you're topping up with a battery that is 60% or more, then you're looking at around 30% of charge from 1 hour. Thus, if you want to top up from say 80% starting point, you will need just over 30 minutes of time. If your phone is at around 60% when you plug in to charge, then you're looking at around 1 hour to full charge the battery. If your battery is starting out around 25% when you plug in to charge, then you're looking at around 1.5 hours for a full 100% battery. In the rare instances where your battery is fully depleted, you can charge the Zenfone 3 (ZE552KL) battery from 0% to 100% in 2 hours.
Video playback battery life: Our goal here is to provide some real usage scenarios to give you a good idea of battery performance when watching video. We performed a variety of tests using local storage video and online streaming via wifi connection. In each scenario, one test was performed at 100% full brightness and a second test done at around 50% brightness. Audio playback was set with volume at 80% through the phone speaker.
Movie Test 1A – local storage, 1080p action movie, 100% brightness, wifi on, VLC for Android player
Results: 2hr movie runtime used 16% of battery.
Movie Test 1B – local storage, 1080p action movie, 50% brightness, wifi on, VLC for Android player
Results: 2hr movie runtime used 12% of battery.
Movie Test 2A – streaming online service CraveTV app, 100% brightness
Results: 2hr movie runtime used 18% of battery.
Movie Test 2B – streaming online service CraveTV app, 50% brightness
Results: 2hr movie runtime used 10% of battery.
Video game battery life: With the wide range of games available, it's a bit tricky to find an accurate test. What we've done is spent time gaming with the most graphic and processor demanding games. In this way, you can take our test results as a "worst case scenario". If you prefer lighter gaming then you can expect less battery consumption. When comparing the Zenfone 3 temperature during intensive gaming, it fared very well and was one of the coolest running smartphones. More heat equals fast battery consumption.
Gaming Test 1A – 100% brightness
Results: 30 minutes used 10% of battery
Gaming Test 1B – 50% brightness
Results: 30 minutes used 9% of battery
Gaming Test 2A – 100% brightness
Results: 30 minutes used 12% of battery
Gaming Test 2B – 50% brightness
Results: 30 minutes used 8% of battery
Battery Life Conclusions: When it comes to typical usage scenarios, the Zenfone 3 (ZE552KL) is an all day performer. You will not be running to find a charger mid day unless of course you are watching 5 movies in a row or playing games for hours at a time. With a reduction in brightness you can stretch battery life for extended usage situations. Although we went to 50% brightness during our tests, you can certainly go even lower and still have adequate brightness for viewing the phone provided you aren't in a bright environment.
Operating System
At the time of our review, the Zenfone 3 (ZE552KL) is running Android 6.0 Marshmallow. In addition to Android 6.0 as the base operating system, Asus has their ZenUI 3.0 running on top of the Android.
If you are not exactly sure what ZenUI is, think of this as the Asus layer which enhances or changes the vanilla Android OS experience which you can find only on the Google branded devices like the Google Pixel phones.
Some people are clearly fearful of pre installed apps aka bloatware. With the Zenfone 2 rollout last year, Asus did go a big heavy on the bloatware which in turn created quite a bit of negativity. The fact is the pre installed apps became the conversation rather than the great price point and impressive hardware that the Zenfone 2 series possessed.
So with the Zenfone 3 and ZenUI 3.0 has Asus improved the user experience? The answer is a concise yes. Although there are pre installed apps, most can be either uninstalled completely or disabled. We will break down into specifics later as to what you can remove or disable.
Overall the pre installed apps are useful and need not be removed or disabled. It's obviously a personal preference but the basic apps by Asus are solid and get the job done. The expected Google apps are installed are ready to go as well.
In terms of customizing and personalizing your Zenfone 3 look and feel, Asus has done an incredible job. There is a wide variety of downloadable themes, wallpapers and icon packs from the Asus online store. The online source provides a nice overview of how your phone might look with a given selection prior to choosing it. There are slides that can demo a theme of your choosing rather than having to download and install before deciding if it's to your liking.
You can customize types and sizes of fonts as well as the size of icons used on your home screen. If you care about how your device looks, then you will be more than satisfied.
This amount of customization is also a double edged sword. If you make a change and you don't like it, you might find yourself scanning through various layers of settings trying to revert your change. There are a few different layers to this customization so give yourself some time before going overboard. At one point we changed the font, but to revert back to the default font style it took a bit longer than it should have. In our situation it turns out there are a couple places where the font style can be changed and it was in the universal setting rather than in the home screen settings.
One aspect that we really enjoyed customizing was the keyboard size. Logically speaking, there isn't a scenario where smaller touch keys are better than larger ones. Perhaps you might think a larger (taller) keyboard might inhibit the input field or block out important on-screen items but during our usage, we didn't run into such issues.
We encourage you to see the differences in the screenshots below. Not only are the bigger keys easier to type on, but the keys are higher on the screen making it easier for our fingers to reach. If you're not an expert touch typist then you will be happy with the resizing that's available to you.
Resizing the keyboard in landscape mode:
Resizing the keyboard in portrait mode:
When it comes to file transfers from your PC to Zenfone 3 or vice versa, this can be accomplished via USB cable or via Asus' own "Share Link" app. When initially trying to transfer some photos from the phone to my Windows 8.1 PC, I had some difficulty in that the PC didn't recognize the device in Windows Explorer which is my preferred transfer method. Instead, I was prompted by the Asus Share Link option.
Little did I know, but to fix this I actually had to download a USB driver from the Asus website and then go into my Control Panel and update the driver. I was certainly surprised that my PC wouldn't recognize the Zenfone 3 (ZE552KL) but it's worth noting in case you buy this phone and have a similar issue. At first I thought the Asus software had hijacked the connectivity options and blocked my familiar USB-to-PC file transfer via Windows Explorer routine. Clearly my assumption was wrong, thankfully.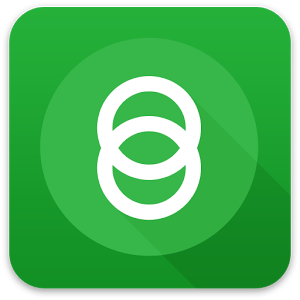 So the Asus Share Link program/app is a simplistic way to wirelessly transfer files between a computer (or other device) and your Zenfone 3. If you're connected to the same wifi network, little more is required. You simply launch the app/program on each device, choose to send or receive, and then pick the device listed that you want to send/receive from or to. Once you have established the trusted connections, you can simply select files from your phone and they will be sent wirelessly to your PC.
The app/program is very streamlined to make it as painless as possible. Thanks to my USB driver issue I was at least able to provide this mini review of the Share Link. Otherwise I very much doubt that I would have used it. I recommend it.
If we have one complaint about ZenUI, it's that there are too many paths or redundancies. There are similar menus and settings which can be accessed in a variety of ways. With so many paths, it took a while to settle on the best ways to navigate. We found it worthwhile to remove some of the top down quick setting icons just to simplify things.
To clarify, the familiar Asus swipe down or double swipe down from the top of the screen is there. That's going to be a familiar functionality for everyone so have no fear that it's somehow changed or missing.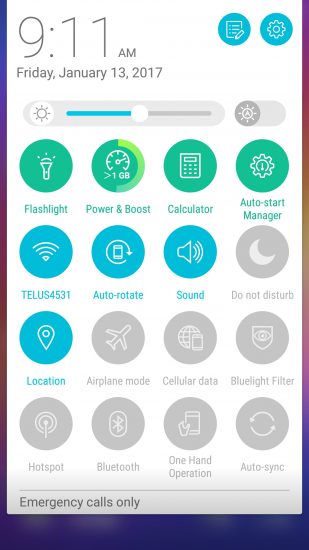 As you can see in the screenshot above, there are a lot of icons in the quick settings panel by default. Asus makes it simple to customize this menu and you can easily remove many of the icons to reduce eye sore.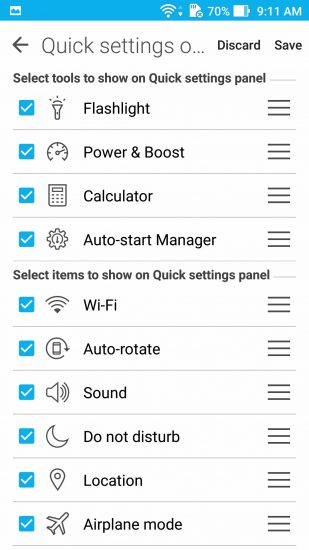 You can also get into similar system settings from the home screen by swiping up from the bottom of the screen.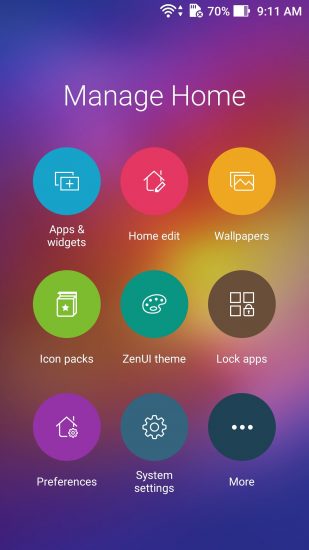 You can see that from the screenshot that there are similar paths to similar settings.
Asus includes a clever and not necessarily original feature called "Touch Gesture" which is found in the "ZenMotion" settings. You can customize your phone so that when your phone is in sleep mode, you can draw a certain letter on the darkened out screen which will quick launch into that app/program of your choosing. So for example, you can set up this feature so that when you draw a "C" on the screen, your phone will wake up and launch the camera app. You can setup the following letters: W, S, e, C, Z, V. So for any of those letters you can assign a wide range of tasks to quick launch out of sleep mode.
Cameras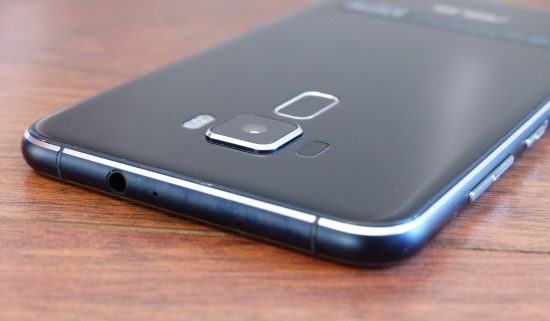 (currently uploading videos and photo samples)
The Zenfone 3 slogan is "Build for Photography". We've seen some of the photos on the Asus website and certainly in the right hands, this phone can deliver. If you don't believe us then check out the Asus photo samples all taken with this phone.
Full disclosure here. We are not expert photographers! Our lack of photography prowess is clear when trying to make use of the multitude of settings available in the manual mode. We suggest you refer to other Zenfone 3 reviews online that offer a more in-depth look at the Zenfone 3 manual mode.
Our hope is that we are reviewing the aspects of the phone camera that.of the automatic modes and preset modes that you are most interested in.
Camera spec wise, there is a 16MP rear camera which has the Sony IMX298 sensor with f/2.0 aperture. It has TriTech auto-focus at 0.03 seconds with subject tracking, as well as optical and electronic image stabilization. Video wise, the camera is capable of taking 4K UHD quality. Selfie fans can enjoy the 8MP front facing camera.
As is the case with most cameras, we needed to first look at the default settings. It does seem that saving storage space trumps quality and this is a bit confusing to us. That said, we did need to maximize the photo size and the detail quality along with changing the video settings so that the best possible video would be captured. This does put into question other reviews online and whether those users have maximized the cameras potential from the default settings. So out of the box the photos are not going to be at "fine" detail and will not be at their maximum resolution. With video, you are not shooting 4K video default and the video will be in "performance" mode rather than "quality" mode.
Default settings that you likely want to change:
First let's talk about what we liked about the Zenfone 3 (ZE552KL). If we had to pick one top quality or feature, we're going to say it's the video taking abilities. To be more specific we just loved the stabilization that's built into the phone. The result is a smooth video that doesn't have the shake that you might expect from a smartphone camera.  If you want to see the stabilization technology in all its glory, then check out this Asus video which uses a camera shaking machine and show results versus other smarpthones. In that particular video, The Zenfone 3 is the clear winner against a couple other popular smartphones in terms of stabilization performance. We can verify that the stabilization is top notch.
Outdoor photos benefit from HDR mode. You can see in the comparison shots below, that the photo on the left without HDR mode is less accurate when you comapare the sky on the right side which was taken with HDR mode on.
The camera on the Zenfone 3 (ZE552KL) also has a quick laser focus technology. If you want even faster focus, or focus on a particular part of a subject, a touch of the screen will change to your selection. Here is a sample of two different focus points. The first photo, we touched the display at the speedometer. Notice the "H" Honda logo is out of focus but the speedometer is in focus. In the second photo we focused the camera on the "H", which brought it into focus and the speedometer then becomes blurred out in the background.
Taking photos is best done with a bit of experimentation. A touch on the display will auto adjust lighting significantly depending on the bright points in the shot. If you're not happy with what you see in terms of lighting or color, it's worth pressing a different spot (changing focus on the display). Changing the focal point is almost a necessity when dealing with bright or high contrast environments.
The Asus camera app provides a wide range of presets for various shooting environments.
In particular the "Depth of Field" setting can create the common blurred background effect. As might be expected, the results are better in bright conditions, especially in outdoor environments. Below are a couple of samples using the preset.
Asus also has a "Super Resolution" mode which takes the already high MP photo and turns it into a 64MP photo. So in the case of the Zenfone 3 (ZE552KL) 16MP camera, the photos taken with "Super Resolution" mode will be a whopping 64MP. Is this better? You can check out the next two photo comparisons. The first is without "Super Resolution" and the second on is with the mode enabled. We've cropped a bigger image for the sake of this comparison. In our opinion, "Super Resolution" mode only takes what the camera gives, and then makes it bigger and not better quality. You're going to get much larger photos sizes using this mode and we don't feel the payoff is worth it.
A subtle feature in the Zenfone 3 camera is with the automatic photo naming scheme. If you use HDR mode, the file name will include the "HDR" tag. If you use the "Depth of Field" preset, the file name will include the "DF" tag. We found this helpful in that it was easier to know what photos fetched the best results. It's a way to more easily sort out what setting fetches the best results in certain situations. We call this user friendly!
(currently uploading more photos samples and finalizing camera review)
Benchmarks
We hope to include enough range of benchmark results that you can gauge where the Zenfone 3 (ZE552KL) stands among other smartphones. The Zenfone 3 is a mid range price point, so keep results in perspective when it come to comparisons.
AnTuTu
62728 – Moto Z Play
60007 – Nexus 6P
59075 – iPhone 6S
58382 – Galaxy S6
57786 – Zenfone 3 (ZE552KL)
50888 – iPhone 6
49480 – Nexus 6
41442 – Zenfone 2
34032 – Xiaomi Mi 4
Vellamo Metal
2361 – Nexus 6P
2237 – Galaxy S6
1662 – Moto Z Play
1589 – Zenfone 3 (ZE552KL)
1368 – Zenfone 2
1284 – Xiaomi Mi 4
Vellamo Browser
5751 – Galaxy S6
4703 – Nexus 6P
3507 – Moto Z Play
3407 – Zenfone 2
2917 – Zenfone 3 (ZE552KL)
1431 – Xiaomi Mi 4
Basemark OS II
2139 – iPhone 6S
1894 – Nexus 6P
1767 – Galaxy S6
1243 – Zenfone 2
1239 – iPhone 6
1229 – Zenfone 3 (ZE552KL)
1074 – Moto Z Play
995 – Xiaomi Mi 4
PCMark for Android – Work Performance 1.0
5600 – Zenfone 2
5498 – Zenfone 3 (ZE552KL)
5336 – Galaxy Note 5
5180 – Galaxy S6
4786 – Nexus 6P
4660 – LG G4
PCMark for Android – Work Performance 2.0
4395 – Galaxy Note 5
4380 – Galaxy S6
3869 – LG G4
3746 – Zenfone 2
3698 – Nexus 6P
3516 (4733 on their site) – Zenfone 3 (ZE552KL)
Geekbench 4 – Single-Core
2373 – iPhone 6S
1857 – Galaxy S7 Edge
1854 – OnePlus 3T
1549 – Pixel XL
1263 – Nexus 6P
834 – Zenfone 3 (ZE552KL)
796 – Moto Z
Geekbench 4 – Multi-Core
5569 – Galaxy S7 Edge
4175 – OnePlus 3T
4066 – Pixel XL
4040 – Zenfone 3 (ZE552KL)
3979 – iPhone 6S
3506 – Nexus 6P
2542 – Moto Z
Benchmark Conclusions: The Zenfone 3 is not top of class versus the modern day flagships like the iPhone 7 or Samsung Galaxy S7, nor should it be considering that it's about half the cost. You can see that the Zenfone 3 (ZE552KL) ranks with the best flagship phones from the previous generation.
In a lot of ways benchmarks are reflective of the device price tag. Obviously the more expensive phones will have the better, faster hardware and will top out the benchmark results. It almost goes without saying.
If you're disappointed where the Zenfone 3 (ZE552KL) is ranking here, then perhaps you need to consider the more expensive Zenfone 3 Deluxe (ZS570KL) which touts the latest and greatest hardware available today.
The results overall gives us a better idea that the performance versus other devices on the market today is respectable. The Snapdragon S625 inside the Zenfone 3 is what it is. It's not top of the class but it's very respectable. Based on our experience with this phone, we find it's a solid performer and will satisfy most users out there. The benchmarks numbers validate our experience using this phone.
Summary
Asus set out to create a versatile, premium looking smartphone with a price that's well below your typical flagship model. With a price tag of anywhere from $389 CAD to $429 CAD we believe Asus achieved their goal. The Zenfone 3 (ZE552KL) is more than half the price of most unlocked flagship phones.
It's almost an injustice to be calling a smartphone with a Snapdragon S625 and 4GB of RAM a mid ranged smartphone.The benchmark results show it as mid ranged but in practical terms it performed excellent for us with everything we threw at it.
We don't often recommend looking at customer reviews because in a small sample size these can be misleading. However we have looked across multiple sources and read what people are saying. The people who have purchased the Zenfone 3 (ZE552KL) are clearly satisfied. We see 5 out of 5 stars or at worst, 4.5 out of 5 star overall ratings.
Apprehension about the pre installed apps or lack of updates should be tempered by our findings. With our testing we found that most of the Asus apps can be either disabled or removed entirely. The lack of updates is not an accurate assessment either because Asus is rolling out the Android 7.0 Nougat update at the time of writing this review.
If you're tempted by the more expensive flagship smartphones on the market that top the benchmark results, here are a few thoughts to ponder. Ultimately the question comes down to whether you want to pay that extra premium for hardware that you may not be able fully utilize or appreciate. If you're a typical user and will be using the phone for tasks like viewing the web, social media, watching videos, playing music and gaming, then the Zenfone 3 (ZE552KL) has the right amount of horsepower for what you need. Also consider that what is considered fast today will be replaced by something faster and more feature packed in a year or less. Having the fastest (and most expensive) phone on the market today is a short lived enjoyment.
Pros:
Attractive build quality
Excellent display
Cheap price
Unlocked
Cons:
Slippery
No NFC
Fragile build quality
Finger print sensor location
Interested in buying a Zenfone 3 (ZE552KL)?