Microsoft has proven to be a solid manufacturer of PC accessories. Whether it's a mouse or a keyboard, Microsoft has plenty of options. I've always seen Logitech and Microsoft as being my favorite accessory brands for PC products, but will this multimedia keyboard deliver? If you need a keyboard for a Smart TV, home theater or Android Box, this may be a perfect solution. Yes there are all sorts of remotes available and controllers that feature keypads for typing. One thing is certain. If whatever you are using requires text entry, a keyboard will server you far better and in this case, at a cheaper price point.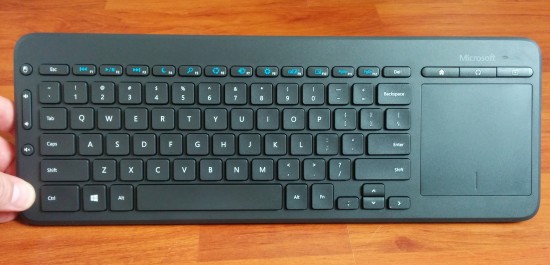 What's In The Box
Batteries, USB dongle, keyboard, and manual.
Design and Features
To be clear, this isn't a Bluetooth keyboard. It has a USB dongle (low profile) which does open up more usage on more devices. This means that you can plug it into your gaming console or other devices that are compatible with USB HID compliant keyboards. What I would suggest is plugging it in and seeing what happens. In my testing, I could use the Microsoft keyboard with touchpad with my Xbox 360 in addition to my Windows 7 and Windows 8 computers.
One aspect that makes this a "go to" multimedia keyboard is in the design. It's meant to be used on laps or elsewhere. It has a spill resistant, durable design. It's light and thin but isn't small to the point where it feels cramped. On the backside, there is a compartment with a snap tight cover where you can place the USB dongle for safe storage.
The touchpad is quick honestly the greatest selling point. It offers multi-touch trackpad gestures, many of which you will know from using a touchscreen tablet or smartphone screen. If you're familiar with laptop touchpads, those gestures will also work in a similar way. My most favorite touchpad techniques are the two-finger scroll, the tap to left click and the tap swipe to highlight a row of text to copy or cut are all available on this keyboard.
I'm not a user who uses customizable media hotkeys, but this keyboard has those. This will provide you with one-touch access to your content. You will want to visit Microsoft product support to find the software download which will open this keyboard to your customization needs and desires.
With this being considered or classified as a "media" or "multimedia" keyboard, Microsoft added easy to use, and user friendly located volume controls which includes a mute button. These volume controls are a helpful when you're running sound through your television or amp.
A nice feature also is the power on-off switch on the side of the keyboard. If you don't want to have accidental confusion coming from this keyboard when you're sitting at your PC using your other keyboard, then this works nicely.
As you will see in the photo gallery below, the rear of the keyboard has a nifty storage for the USB dongle. The best part? It's magnetic so that USB hub isn't going to just fall out of the compartment when you open it to change up batteries.
Using the Microsoft All-in-One Keyboard
There is one specific need I had in seeking out a multimedia keyboard with built-in touchpad. I wanted a keyboard that could control my PC from the sofa in my living room. Your needs may be different, but let me just say that you can have the USB dongle from this keyboard in addition to a keyboard that is connected at the PC itself. So in my reviewing, I can verify that even with a Logitech USB keyboard and mouse and this Microsoft Media All-In-One keyboard plugged into the same computer, they will all work at the same time. In my usage scenario, this means that when my PC desktop is viewable on my computer monitor and connected via HDMI to my big screen HDTV, I can control the computer from either location. This to me was a very big selling point. Different drivers means no conflicts.
If you dig around on customer reviews, you might see quite a lot of complaining about the use of the function keys. Just keep in mind that by default, the F keys are set to multimedia keys. To use them as regular Windows F keys, you will be required to hold down the "Fn" key and then pressing your desired F key on the top row. Personally this is not an issue for how I do my computing, but it may be troublesome to you. If no Fn lock is going to be a deal breaker, at least you know now. That said, you will be missing out on a great keyboard with touchpad.
If you are hoping this is a full keyboard, it is and it isn't. It's primary usage is multimedia and not typing MS Word documents or MS Excel spreadsheets. I mention this because there is also no "Home", "End" and "Ins" keys. I could see that as being a nice bonus to have, but for my usage it's a non issue. This is meant to be used in a certain way and including every possible key may have made the existing layout more cramped. Decide for yourself if these missing keys would be a deal breaker for you.
When using the Microsoft All-In-One Media Keyboard initially, I did so without considering the fact that I would require a software package. In fact I didn't really think about it. I didn't see a disk in the package (I know that's old school thinking) but one day it did occur to me. Much to my surprise and amazement, on the product support page, Microsoft does list the following: Mouse and Keyboard Center 2.3. Once downloaded and installed, suddenly I could configure many aspects of the keyboard and tweak settings on the touchpad. Yes, this keyboard will work without the software, but I urge you to install it before using the keyboard. There is an amazing amount of "tweakability" within the software so that you can make the keyboard work best for your particular situation.
I'm about to test this keyboard with touchpad on the PS4 because the latest Sony system update does allow now for keyboard and mouse input. According to Microsoft, this keyboard will work with Android, but some keys may be non functional. I hope to review this keyboard on Android also. From what I've read, this keyboard will work in the Apple environment also. Keep in mind that all funtionality will not be available. I've read that users could use this keyboard with their MacBook Pro with good results.
I've read from some reviews that this keyboard would be nice with a backlit keyboard. I agree, but how about price point? If you are worried about a darkened room and not being able to see the keys, then I urge you to look at keyboard stickers instead. You can get fluorescent stickers instead. You won't need to stick up your entire keyboard, but having a few reflective keys might help you figure out where you need to be pressing. If you have light from your TV, then that should light up fluorescent stickers. If you look around online you will be able to find them.
Conclusion
I liked this multimedia keyboard so much that I bought two of them. One for my living room and one for my bedroom. I've seen deals on this Microsoft keyboard which makes it very hard to pass up. If you spend time on your HDTV and had to fiddle with entering text for a web browser or search using a remote control, then consider this keyboard. It's versatile enough that it can provide other usages. The features and usability vs. the price makes this worth buying (on sale that is).
Photos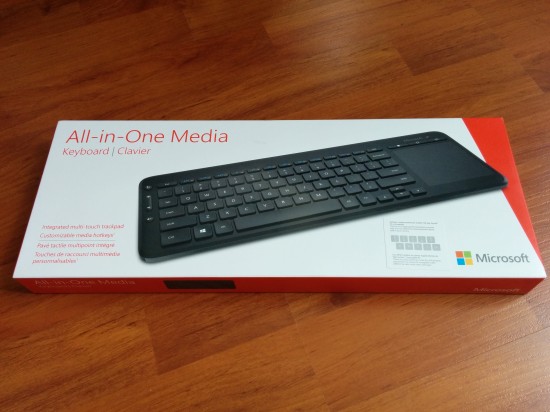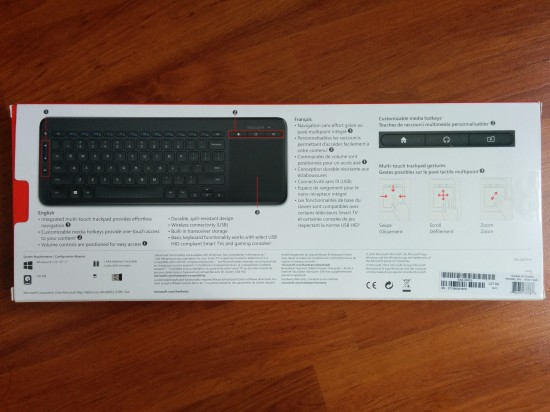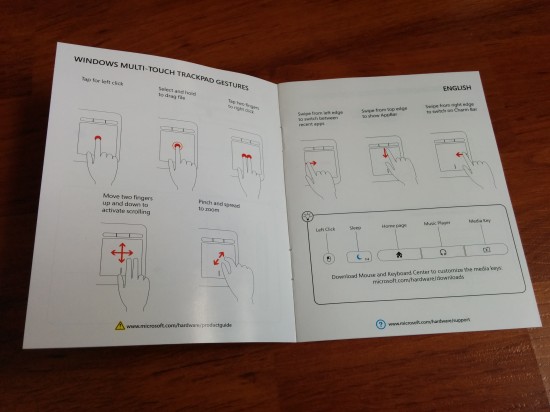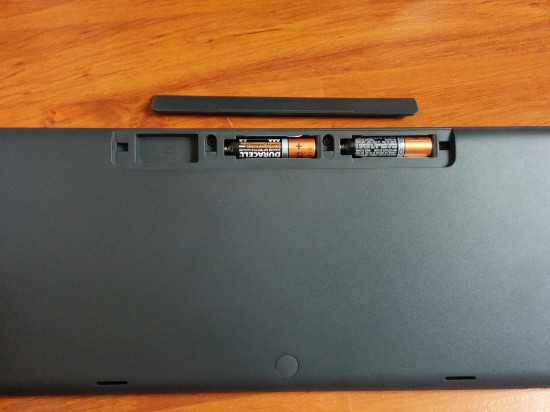 These two photos show off a clever design. See the spot for the USB dongle? It's magnetic!